Weeds are plants that interfere with human activities and objectives. In agriculture they harm cultivated species by competing for nutrients and water. If left to grow on lawns in an uncontrolled manner, they can make a garden look unkempt and scruffy.
They are often very hardy and adaptable even to poor soil. But despite being reviled, weeds are part of the ecosystem and we need to learn to live with them, while controlling their growth. How? Read on to find out.
Weed removal: the solutions
There are various weed control techniques available to you. They can be categorised as physical and chemical depending on the system used, or as either pre-emergent (i.e. weed prevention) or post-emergent (i.e. containing infestations after they occur) depending on the time of treatment.
Prevention techniques involve creating unfavourable conditions for weed growth, such as by planting pure seeds (without extraneous material), choosing varieties that compete with weeds and applying every possible strategy to increase the competitiveness of your crop over weeds (for example, by favouring transplantation over sowing). Prevention systems also include tilling soil, false sowing, crop rotation, cover cropping and mulching.
By contrast, containment or weed removal techniques include the use of garden power tools to clear weeds, heat treatments (such as flame weeding), chemical herbicides (weed killer) or organic natural herbicides and, of course, grass cutting.
Using a petrol flail mower to contain weeds
If you choose not to use herbicides to eliminate weeds—perhaps because you believe in organic farming or because you want to look after your garden in a more sustainable way—you need to adopt appropriate preventive techniques when possible, or alternatively opt for cutting. Mowing actually reduces water competition in favour of the plants you want to grow and to the detriment of weeds.
Instead of a motor-powered brushcutter or lawnmower, you can get rid of weeds using a flail mower. As you may already know, "flail mower" is an umbrella term for machines with different functions: cutting tall, stubborn grass, weeds and scrub even on uncultivated, sloping or uneven ground; clearing ditches, roadside verges or undergrowth; controlling grass and weeds between rows or chopping pruning residues in orchards, olive groves and vineyards; and shredding the remains of cultivated plants after harvesting.
Specifically, if you want to cut grass, weeds and scrub over medium-sized areas and clear roadside verges or undergrowth, the best choice is a self-propelled flail mower. In particular, flail mowers not only cut but also shred vegetation—including weeds—reducing it to fragments that decompose faster than grass clippings produced by a lawnmower or brushcutter.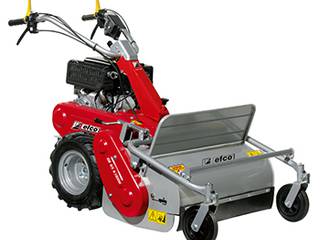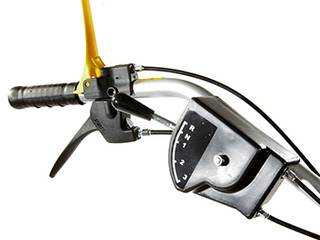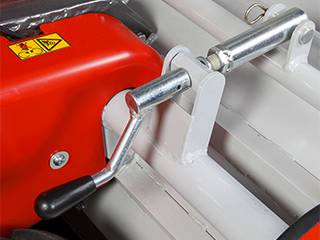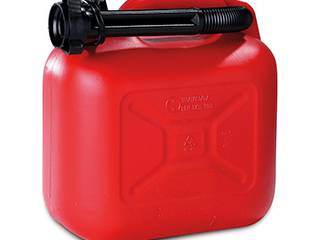 A professional flail mower will help you to eliminate weeds over areas up to 5000 m² and the new Efco DR 65 K1100H petrol flail mower fits the bill exactly.
It is a four-speed, self-propelled flail mower (three forward speeds plus reverse) that can travel at up to 3.4 km/h thanks to an engine that has a 302 ccm³ displacement and 6.2 kW power output. The 4-stroke engine needs to be filled with fresh unleaded petrol in order to ensure smooth starts. Petrol degrades over time, but you can slow down this deterioration by storing it in an approved fuel tank.
Thanks to its 38-blade rotor supported by reinforced and impact-resistant bearings, the DR 65 K1100H professional flail mower can cut a width of 65 cm in a single pass. You can also adjust the cutting height as needed between 20 and 80 mm using the worm screw.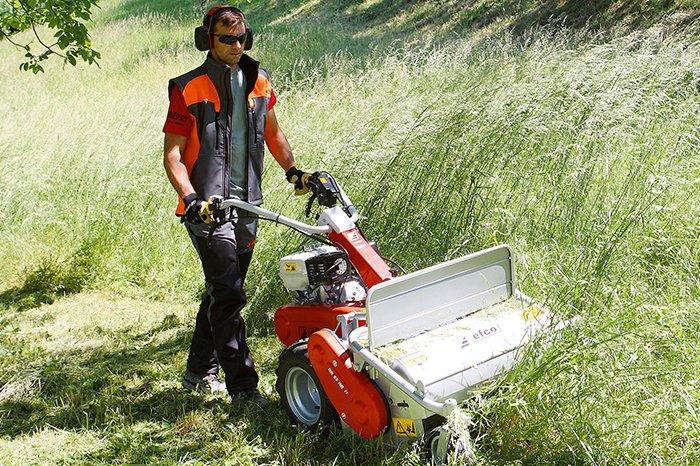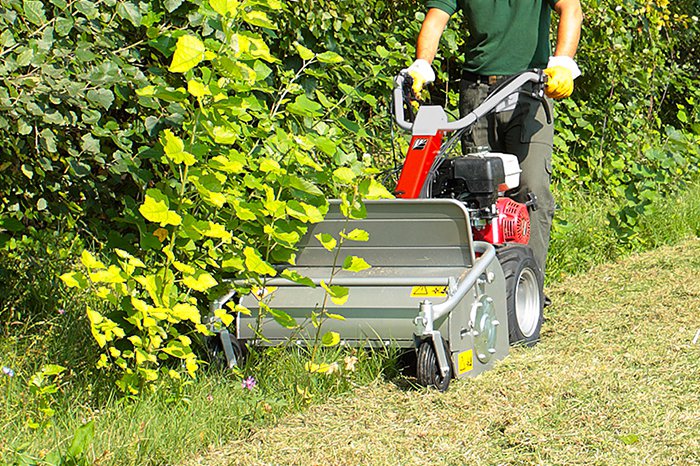 Working with the new DR 65 K1100H flail mower is now even more comfortable: the sides of the handlebar incorporate easy-to-reach controls (accelerator, clutch, gearbox, rotor engagement, wheel release, brakes) and levers for adjusting the handlebar height and width settings. Keeping your footing on all types of terrain and moving the machine forward even on bumpy surfaces is no problem thanks to the large rear wheels with sculpted tread, while the pivoting front wheels ensure maximum fluidity when manoeuvring