We are proud to present to you the new H series MTTH 2400 pruning chainsaw, a marvel of performance that we are sure will win you over!
It is an extremely versatile machine, the result of extensive research and technological innovation. We have developed it to better support you in pruning and limbing trees, olive trees and fruit plants in both agricultural and urban settings.
Let's look in detail at all the mod cons this machine offers you!
We start with its ergonomics. The MTTH 2400 chainsaw is easy to handle and compact: thanks to its stable fuel burn, it can be tilted and turned upside down to cut even the most inaccessible branches, greatly simplifying your work. Another highlight is its anti-vibration technology, consisting of three rubber shock absorbers.
The model is equipped with a 25.4 cm³ 2-stroke engine outputting 1.2 HP, as well as the EasyOn and AlwaysOn systems, which are handy switches that respectively facilitate starting and eliminate the risk of flooding the carburettor.
The MTTH 2400 is your new ideal work mate: purchase it from our authorised dealers.
H series chainsaws
MTTH 2400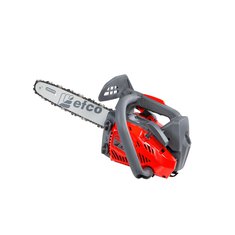 Power/Displacement 1.2 HP - 0.9 kW/25.4 cm³
Bar length (nose) 25 cm, 10''
Dry weight without bar and chain 3.2 kg