Safety, Design, Lightness, Comfort: these are distinctive elements of this product that match the best of a trekking boot with the required operational safety.
The boots are chain-resistant certified EN ISO 17249, Class 2 (Category 2 PPE, resistant at chain speed of 24 m/sec).
Thanks to the sole design, these boots are able to grant an excellent adhesion to the soil in any condition. On this product is fitted an Anti-oil, antistatic, non-slip nitrile rubber sole resistant to temperature up to 300°C. This product can also be used on other gardening activities (brushcutters, lawnmowers, hedgetrimmers, rotary tillers).
Protective clothing
Chain-resistant forestry boots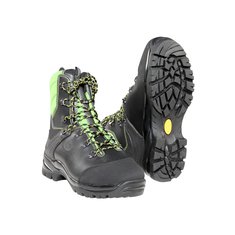 Protective steel toecap
Toecap with rubberised leather rand
Anti-piercing sole plate
8-ply chain protection from top of foot up to the shin and the sides