Efco welcomes in the spring by further expanding its range with three new models of lawnmower with electric starter. The newly released models are the LR 48 TKE COMFORT PLUS, LR 53 TKE COMFORT PLUS and LR 48 TKE ALLROAD PLUS 4. These machines are perfect for tending all types of lawn and garden, while the Emak engine with battery-powered starter ensures quick and effortless starting at the touch of a button.
All models are equipped with an engine started by a battery that is fully rechargeable in 60 minutes, although just 10 minutes' charging is enough for 10 starts when time is of the essence. In addition, safety is guaranteed by the removable safety key, which prevents accidental starting.
The models in the COMFORT PLUS series stand out for their ergonomic features and have a single-speed drive: the ideal solution for large surfaces and uneven terrain.
The LR 48 TKE COMFORT PLUS and LR 53 TKE COMFORT PLUS lawnmowers are both equipped with a robust steel deck, bearing-mounted wheels for smooth movement across any type of terrain, and a robust 70 L plastic or canvas grass-catcher with fill level indicator to alert the operator when it needs emptying.
The ALLROAD PLUS 4 models incorporate rear grass collection and a mulching function, as well as side discharge, which is easily achieved by opening the side tunnel and inserting the grass discharge deflector.
The LR 48 TKE ALLROAD PLUS 4 lawnmower in this series is equipped with a steel deck for greater stability, as well as large wheels (280 mm rear and 200 mm front) with ball bearings to ensure smoother, easier travel on any type of terrain. The machine also features a "4-cutting device" system that includes mulching, collection and side discharge as standard, with deflector for rear discharge.
Self-propelled lawnmowers
LR 48 TKE COMFORT PLUS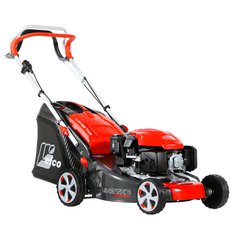 Self-propelled lawnmowers
LR 53 TKE COMFORT PLUS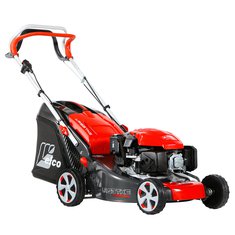 Deck steel
Displacement 166 cm³
Cutting width 51 cm
Self-propelled lawnmowers
LR 48 TKE ALLROAD PLUS 4