If you need to carry out felling, limbing and bucking of large trees, the MT 6300 professional chainsaw is the product for you. This new model stands out for its versatility and much more: despite its low weight, the chainsaw offers a high power output that enables you to get any job done efficiently, helped by the 16" to 20" interchangeable guide bars.
This is a powerful, solid and safe machine thanks to its unique features: a digital coil, magnesium alloy crankcase and chain guard, automatic and adjustable aluminium oil pump, 3-piece forged steel crankshaft and nickel-plated cylinder.
The effort required for starting is minimised by the primer and decompressor, while maintenance is made easier by the nylon filter and the chain guard with a wide discharge section.
Everything in this model has been designed to ensure comfort and high performance, including the shock-absorbing anti-vibration system and the aluminium handle, which is rubber-coated for a firm and comfortable grip.
You can find the new professional chainsaw on MyEfco.com and at our specialist dealers.
Professional chainsaws
MT 6300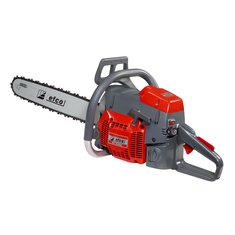 Power/Displacement 4.7 HP – 3.5 kW/63.2 cm³
Bar length (nose) 46-51 cm, 18''-20'', (replaceable sprocket)
Dry weight without bar and chain 5.8 kg