The MTT 250 is a class leading chainsaw, combination of power, lightweight and maneuverability. Elements that make it the perfect tool for pruning and maintenance of plants, olive and fruit trees.
This machine is also characterized by Made in Italy design developed by Giugiaro, the world's premier industrial design brand.
Practical and easy-to-use thanks to the incorporation of facilitated starting devices, including Easy on, which compensates for the compression effect of the professional engine for effortless start-ups, and the Air Purge system for smoother cold starts and starts after refuelling.
High cutting torque and speed mean clean cuts in all conditions, while the aluminium oil pump ensures optimal lubrication of chain and bar, even in the most demanding situations.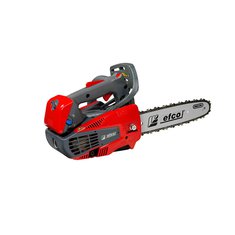 Power/Displacement 1.3 HP - 1.0 kW/25.4 cm³
Bar length (nose) 25 cm, 10'', (sprocket/carving)
Dry weight without bar and chain 2.7 Kg