Heard of mulching but still not exactly sure what it is?
Read on to find out everything you need to know about this particular type of mowing and the most effective methods for putting it into practice.
A smart, eco-friendly mowing technique
Mulching is a mowing process in which the grass cuttings are chopped so finely that the waste generated - instead of being collected and removed - can be spread directly over the lawn and left to decompose and turn into a natural fertilizer. When the cuttings are chopped repeatedly at such high speed that they are reduced to fine particles, the process is known as pulverization.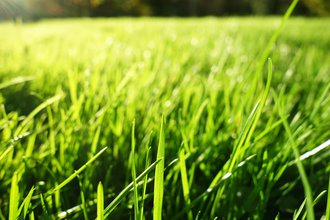 If your aim is to get a lush green garden in a way that's friendly to both the environment and your pocket, investing in a mulching lawnmower might be the right choice for you. As well as facilitating the release of the nutrients and water stored in the grass, using this fertilization technique means you don't have to waste time on the tiresome tasks of transporting and disposing of your grass cuttings, and you can recover up to 30% of the fertilizer already used, so you don't need to add more at a later date.
Some gardeners still cherish the mistaken belief that residues of finely chopped grass cause thatch. So let's set the record straight: mulching does not stifle your lawn, it helps regenerate it. Since they contain lots of water, the chopped blades of grass don't cause a build-up of debris on the lawn, but decompose immediately and nourish the soil. By opting for this method, you don't need to fertilize with phosphorus and potassium at all, and you can cut your fertilization with nitrogen by at least 25%. You'll take less time to cut the grass and cutting will be more precise and higher quality.
How to mulch mow
To use this technique on your lawn, you need a mulching lawnmower.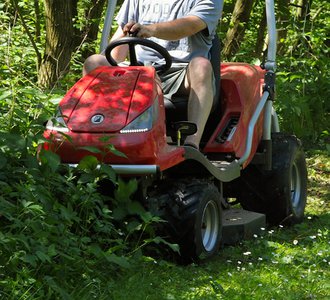 Alongside the traditional petrol-engined lawnmowers on the market, you'll now also find a number of electric lawnmowers equipped with special blades or cutters for mulch mowing areas of small or medium size.
If you've already bought a lawnmower, you can use a mulching kit: this is a set of accessories that you fit directly to your petrol-engine lawnmower, which reduces the grass cuttings into tiny particles quickly and easily.
If you need to mow a large area, however, your best choice is a garden tractor.
Which one should I choose? It depends mainly on the type of surface you intend to work on and the level of performance you want.

Ride-on mowers, for example, are ideal for dealing with areas of up to 4000 m². Featuring compact design and extreme practicality, they're mainly used on land where grass cuttings are collected, but they also offer a mulching option. Just like side-discharge garden tractors, which are specially designed to deal with large quantities of grass and redistribute it evenly across the lawn, even on rough terrain.
Rear-discharge garden tractors, with mulching function, are the most suitable models for landscaping work in parks, green spaces and large gardens - both public and private. The best-selling models include the EF 95/16 K H, which offers fabulous levels of comfort and efficiency, partly because of the ergonomic, easy-to-engage lever for adjusting the cutting height.

Lastly, for areas with dense vegetation or sloping ground requiring large-scale mowing, professional all-terrain garden tractors are the most effective choice. A prime example of this type is the Tuareg 92 EVO: equipped with Cruise Control to keep it at the same speed for the full duration of the job, this garden tractor will give you a huge helping hand with your work and enable you to operate in any environment.