Keeping a garden clean and tidy is a huge satisfaction, but a lot of work too!
Especially during the summer, when bad weather, smog, pollen and residual organic matter are most in evidence, creating layers of dirt and encrustations on walls, patios, paving, paths and garden furniture. Which is why one of these the high pressure washer will always be a handy thing to have around. Electric high-pressure washers appeared a few years ago, and have already met with great success due to their extreme effectiveness and eco-sustainability. Here, we look at the functionalities on offer, and find out which model will best meet the challenge of cleaning and sanitizing green areas — in minutes.
An ecological and versatile item of equipment
Compared to classic rubber garden hoses, a high pressure washer reduces usage of water by 70% and is adaptable to an infinite variety of tasks, not only the cleaning of large outdoor areas, but equally for interior floors and windows. Also for washing the car, sanitizing the garage, barrels, barrows and tools, as well as getting rid of moulds, moss, oil stains and insect nests.
Hot water or cold water high pressure washers
Not all high pressure washers are the same: some use hot water, others cold water. Hot water models are designed with intensive use in mind, whereas cold water types are recommended more for home use.
If you are faced with large areas to clean, such as forecourts and porticoes, or sizeable industrial areas to sanitize, the ideal choice will be a Hot water high pressure washer like the model IP 3000 HS which, thanks to the adoption of a vertical boiler with double spiral heating coil, is able to heat water more quickly and guarantee a faultless cleaning action, even on particularly stubborn dirt and encrustations.
If on the other hand what you are looking for is an appliance that will handle general tasks such as cleaning the garden or the garage, or washing the car, you can go for a cold water high pressure washer.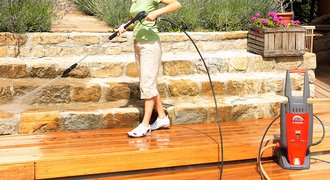 The IP 1360 S or IP 1450 S models, for example, are perfect for cleaning smaller areas: with a wide range of accessories available, these are appliances that will guarantee ease of use and practical advantages for any type of maintenance work. They have a strengthened motor, for extra heat resistance, and feature a number of automatic functions making them second to none for reliability and safety. These include the "Total Stop" system which shuts down the motor when the lance is turned off, so that tasks can be optimized and economized to best effect. The "Easy Start" device is a "Securfix" type, which ensures the washer can be started up quickly and in complete safety when connected to any kind of electrical power outlet.
Looking for a machine that will ensure maximum cleanliness in double quick time? Then you can opt for one of the new IP 1150 and IP 1250 high-pressure washers, which use cold water. With their handy wheels and special holders for stowing the power cord and accessories, these appliances will make your every movement that much easier, so that all cleaning operations can be accomplished in the blink of an eye.
Choosing the best high pressure washer for you

The main considerations to bear in mind when selecting a high-pressure washer are:
- Flow rate: the amount of water the pump is able to deliver at high pressure in the space of one hour. To be certain you will always get optimum performance from your appliance, be sure to choose a model specified with a flow rate of at least 350 l/h. High pressure washers with a flow rate any lower than this will tend to produce only a feeble jet.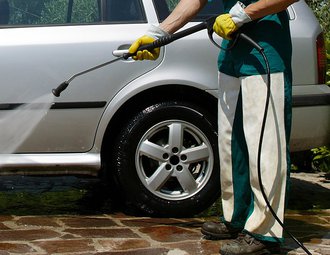 - Pressure: the force with which water is expelled from the lance nozzle, measured in bars. As a rule, a pressure of between 100 and 150 bar will be more than sufficient for all home uses. For instance, if you want simply to wash the car or clean a small area such as a garage or a cellar, a pressure of 110 bar is quite enough. If on the other hand you have larger areas to clean, then we recommend a high-pressure washer rated at least 140 bar. If the surface to be cleaned is bigger than 100 square metres, an industrial model will be the best option.
- Power: if a high-pressure washer is going to be used for hours at a time, make certain it has a rated power of at least 2-2.1 kW. If a less intensive level of use is envisaged, you can consider a model rated between 1.3 and 1.8 kW. The more powerful models you will find in circulation, like the IP 1900 S, are rated around 2.7 to 2.9 kW.

Now you have found out all there is to know about the high-pressure washer, all that remains is to choose the model best suited to your needs, and you can set about getting your garden spick and span. Happy jetting!