The new Efco MTT 3600 professional pruning chainsaw is designed for limbing and felling operations and overhead work carried out by tree-climbing professionals.
It's a compact and versatile machine featuring an excellent power to weight ratio and guaranteed extremely easy to handle.
The optimum balance and faultless ergonomics of this chainsaw are assured by its superior design by Giugiaro, strictly Made in Italy.
Advantages of the Efco MTT 3600 model include features like the "EasyOn" system, which cushions the initial effect generated by compression of the professional engine to ensure effortless starting, and "Air Purge", which favours an easy restart from cold and after refuelling: two key benefits making the use of this chainsaw more practical and comfortable.
Even under hostile operating conditions, top performance is assured by high cutting speed and torque, an adjustable aluminium oil pump, and a bar mounting face also made of aluminium, giving added strength and efficiency for the toughest of cuts.
The "OnBoard" clutch feature allows fast attachment of the cutting tool, and improved care of the clutch itself, ensuring it stays cleaner and lasts longer. A generously sized nylon filter element enhances the air intake to the engine, as well as speeding up maintenance.
The "AlwaysOn" Switch shuts off the engine straight away and resets automatically, ensuring the machine is always ready to restart.
To make life easier, the folding snap hook anchor, made of steel, allows attachment of the machine to the operator harness in seconds, and with translucent fluid containers (oil reservoir and fuel tank), the levels can be checked easily and regularly, so as to avoid unexpected stoppages for refilling.
Pruning chainsaws
MTT 3600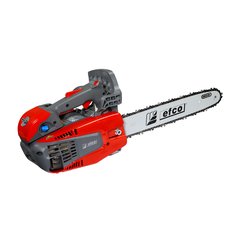 Power/Displacement 2.0 HP - 1.5 kW/35.1 cm³
Bar length (nose) 30-35 cm, 12''-14'', (sprocket)
Dry weight without bar and chain 3.8 Kg