Tractor mowers are a boon for professionals or hobbyists like yourself with large lawns to look after, including those containing scattered trees, flower beds, kerbs and garden furniture. Compared with other mowing solutions, garden tractors save you a lot of time, and are essential even in domestic gardens above a certain size. They also help you to work smoothly and efficiently on scrubland or on uneven and sloping areas.
When deciding which tractor mower to buy, it is important to focus on key factors such as engine power, transmission type and cutting system, taking into account the features of your intended work area: dimensions, gradient, and presence and type of obstacles.
For large public greens and parks
How do you choose the most suitable tractor mower for mowing medium-large lawns with tall grass, such as public greens or parks? In this case, the best models are garden tractors with side or rear discharge. What differences are there between the two types?
Side-discharge garden tractors are quite compact and have a small turning circle, so if you don't need to collect the grass you mow, they are a good choice for covering fairly large grounds or even small spaces.
The Efco EF 98 L/14,5 K, for example, is a side-discharge garden tractor for lawns up to 6,000 m² and guarantees a smooth, jerk-free ride thanks to its hydrostatic transmission. The included mulching kit solves the problem of grass collection and also saves you time, since the grass is finely shredded by the garden tractor's cutting deck and deposited on the ground, where it quickly decomposes and fertilises the soil without creating unsightly piles. If you are interested, you can find out more about mulching here.
Rear-discharge garden tractors are even more powerful and robust machines, perfect for mowing large areas, and are equipped with a grass catcher. The Efco catalogue offers you a variety of rear-discharge garden tractors, with models to suit the most demanding amateur and professional gardeners.
Depending on the dimensions and type of terrain you usually work on, there are various professional rear-discharge garden tractor models to choose from – EF 103/16 K, EF 103/21, EF 103/22 V or EF 123/22 V – all supplied as standard with a mulching kit that is easy to install. Pleasant and comfortable to drive, they have a hydrostatic transmission with two pedals – for changing speed/gears and braking – and electromagnetically operated blades.
They can mow lawns up to 9,000 m² thanks to powerful engines with displacement from 452 to 656 cm³ and cutting widths of between 102 and 122 cm. They also have 7 cutting height settings and a generously sized grass catcher up to 320 L.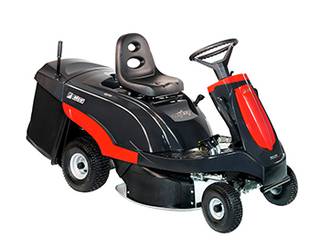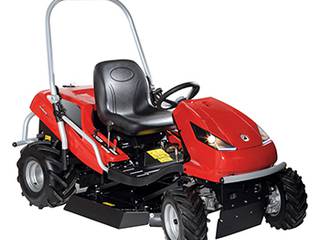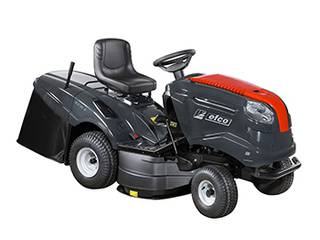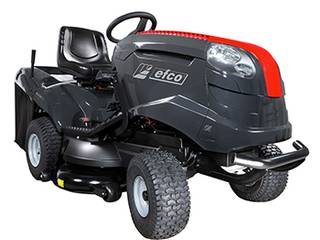 For gardens and green spaces in the countryside
To work on small/medium-sized lawns in the garden or countryside, you can use either a side-discharge garden tractor – such as the EF 98 L/14,5 K complete with mulching kit – or a ride-on mower.
Ride-on mowers are compact garden tractors that give you agility, precise manoeuvring and excellent forward visibility. In a nutshell, they are ideal for tree-lined areas or spaces featuring scattered plants, flower beds, garden furniture and play equipment.
The Efco ZEPHYR 72/12,5 KH is a little gem: only 73 cm wide and with a turning radius of just 45 cm, it is suitable for mowing lawns up to 4,000 m². Using optional accessories, the ride-on mower can be converted from a garden tractor with rear collection system to a mulching mower with side discharge. Once the work is done, cleaning is extremely practical with the quick-fit connector for washing the cutting deck.
In addition to side-discharge garden tractors and ride-on mowers, for gardens or lawns up to 5,000 m² you can consider smaller rear-discharge models, such as the Efco EF 93/16 K with 452 cm³ displacement and mulching kit as standard.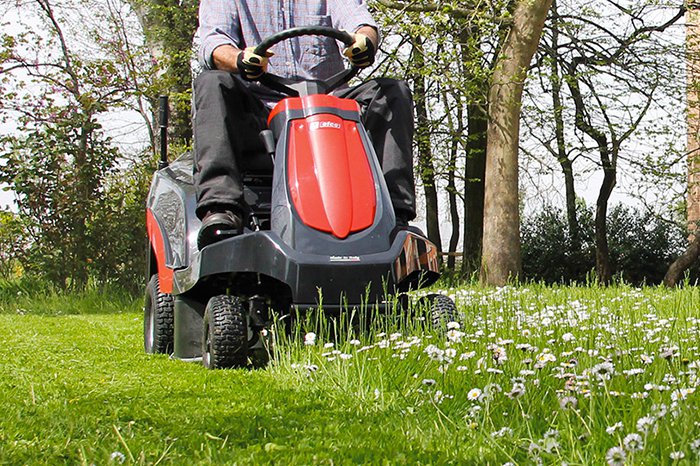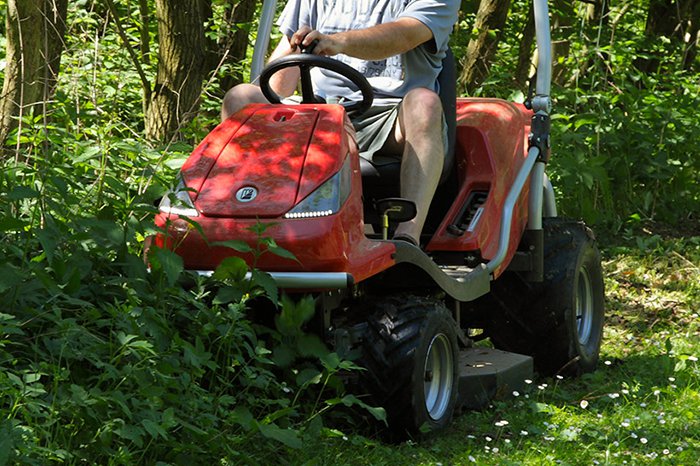 For woods and overgrown or tough surfaces
If you work on rough terrain, steep slopes, areas overgrown with dense vegetation, or if you have to mow grass over very large areas, then you want a powerful and robust machine that also has a low centre of gravity – so that it is very stable – and a tight turning circle for agile and quick manoeuvring. In these cases, professional all-terrain garden tractors are the ideal solution.
For mowing areas up to 9,000 m² and in the toughest conditions, Efco offers you the TUAREG 92 EVO all-terrain mulching tractor: essentially a mulching mower with a 570 cc engine and a turning radius of just 65 cm. It's easy and simple to drive, thanks partly to the hydrostatic transmission and single pedal, which is used to change speed and gear, and the self-locking differential, which prevents skidding on slippery surfaces and ensures excellent traction on all types of terrain.