Garden tractors are excellent work companions in diverse settings: city, countryside or
woodland. Sometimes garden tractors are not a choice but a necessity, such as when you have to mow very large areas. We are talking about grounds measuring thousands of square metres, where neither a brushcutter nor a lawnmower is sufficient, however powerful they are. Fatigue is also a factor!
A garden tractor never gets tired and, compared with other solutions, is even more effective in terms of time and results. It is also immeasurably more comfortable for cutting grass: a bit like driving a car, but you don't need a licence. It really is effortless and, especially for experienced users, it makes green maintenance even more enjoyable.
Compared with other mowing equipment it costs more, so carefully weigh up your options before investing in a garden tractor. There is a wide variety of garden tractors on the market: here we explain the criteria you should bear in mind when choosing a garden tractor that meets your individual needs.
Garden tractors and surface area
The first things to consider when choosing a garden tractor are the dimensions and characteristics of the terrain to be mowed:
How large is it?

Is it level and unobstructed?

Is it littered with trees, flower beds, garden furniture, play equipment or ground lights?

Is it bumpy or sloping?
If the ground is level or slightly sloping—up to a gradient of 17%—there are several suitable models available, with the only differentiating factor being the amount of grass to be mowed. For larger areas, you need a garden tractor with a higher power rating and engine displacement. On the other hand, buying a very powerful garden tractor—like the Efco EF 123/22 V professional rear-discharge garden tractor, which can cut 9000 m&sup22—for a medium or small-sized lawn would mean spending more than necessary and its capabilities would not be exploited to the full.
Let's take an example: if your lawn is about half the size of a football pitch, which is around 7000 m&sup2, you can use a rider mower like the ZEPHYR 72/12.5 KH. It's perfect for surface areas up to 4000 m2. If, on the other hand, you have much larger grounds, you can opt for a rear-discharge garden tractor like the EF 93/16 K, which allows you to cover an area of 5000 m&sup2. Or choose a side-discharge garden tractor like the EF 98 L/14.5 K, which is designed to mow up to 6000 m2.
The power rating of a garden tractor is generally proportional to its size and especially the cutting deck dimensions, which determines the width of lawn that you can mow in one pass. For example, the rear- and side-discharge garden tractors we just mentioned have a cutting width ranging from 92 to 122 cm. A large garden tractor enables you to make fewer passes and therefore work faster: this is certainly true for an uncluttered lawn, where you can move around freely, as might be the case in the countryside.
However, it's a different story if the lawn is dotted with obstacles, such as in a park or a spacious garden surrounding a house. In this situation, a garden tractor with a large cutting width may not be the best option. The ideal solution would be a rider mower because it is small and compact, and therefore much more manoeuvrable. For example, the ZEPHYR 72/12.5 KH with a cutting width of "only" 72 cm offers the advantages of easy handling, but also precision and speed, thanks to the turning radius of just 45 cm. In addition, the engine of a rider mower is located under the seat, so your position is more advanced than on other tractors, which means you have excellent visibility and perfect control over the task in hand.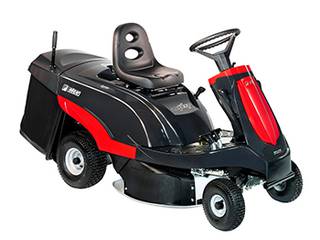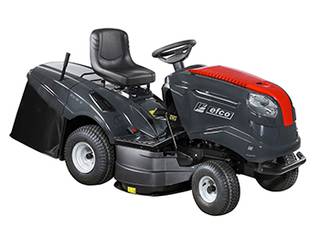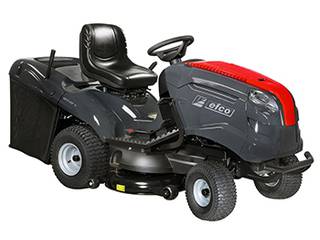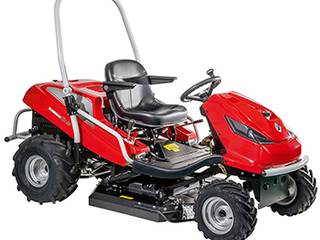 Do you have to mow on steep inclines or bumpy terrain? In that case we recommend a professional all-terrain garden tractor such as the Efco TUAREG 92 EVO 4X4. It's like driving an off-road vehicle that allows you to attack the toughest terrain in countryside or woodland, in total safety. Standard features include a roll bar, front and rear bumpers, side guards and safety belt.
Thanks to its low centre of gravity and four-wheel drive with wide, deep tyre treads and self-locking differential, the TUAREG 92 EVO 4X4 can handle even the trickiest terrain, with gradients up to 32%. To give you an idea of what that means, an incline with a 100% gradient has a 45° angle.
Garden tractors and cutting features
When choosing the best garden tractor for your needs, cutting features also count. We already touched on the subject when mentioning the cutting width, which is determined by the diameter of the garden tractor's cutting deck and is, in principle, proportional to the vehicle's size.
Another consideration is the cutting height which, in all the models we have talked about, is adjusted simply using a lever that raises and lowers the cutting device to ensure a grass height of between 2.5 and 9 cm. By contrast, a professional all-terrain garden tractor cuts the grass a little higher, between 5 and 12 cm.
Another factor not to be overlooked when choosing a garden tractor is grass collection. What you do with your grass clippings also depends on how they are cut. If you want a tidy lawn, opt for a conventional bag collection system. For example, with the compact ZEPHYR 72/12.5 KH rider mower you get a 180 l collection bag, whereas with the professional EF 123/22 V rear-discharge garden tractor you get a generous 320 l grass-catcher.
If you prefer to leave the clippings where they fall, so as to avoid having to dispose of them, you could go for a side-discharge garden tractor, which mows the grass and deposits it onto the lawn. In this case we suggest a side-discharge garden tractor like the EF 98 L/14.5 K, or the ZEPHYR 72/12.5 Kh rider mower, which offers side discharge as an option. A similar function is also available in garden tractors with collection bag, by detaching the grass-catcher and fitting a rear deflector.
Another possibility if you don't want to worry about grass clippings is to use a mulching cut. As with models that eject clippings onto the ground via a lateral or rear discharge, this is a good system for very large surface areas that might otherwise leave you with an onerous amount of grass to dispose of. A mulching garden tractor is equipped with a cutting device that keeps the grass circulating in the cutting deck until it is shredded, then distributes it over the lawn without forming piles.
Among the Efco models we talked about, mulching cut is standard on the TUAREG 92 EVO 4X4 professional all-terrain garden tractor and the EF 98 L/14.5 K side-discharge garden tractor, as well as on the EF 93/16 K and EF 123/22 V rear-discharge garden tractors, while you can request it as an option on the ZEPHYR 72/12.5 KH rider mower.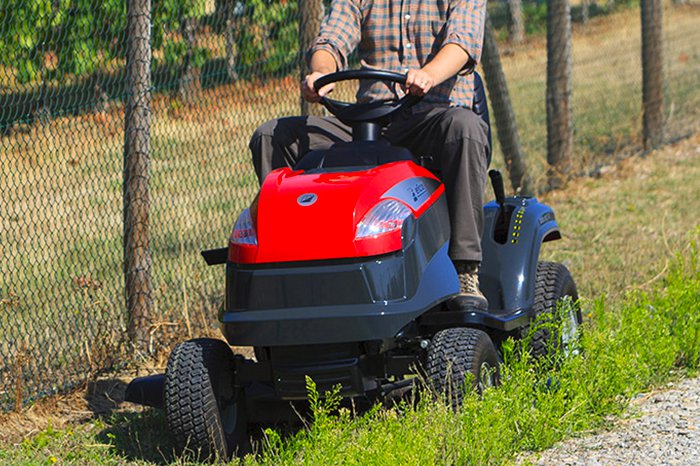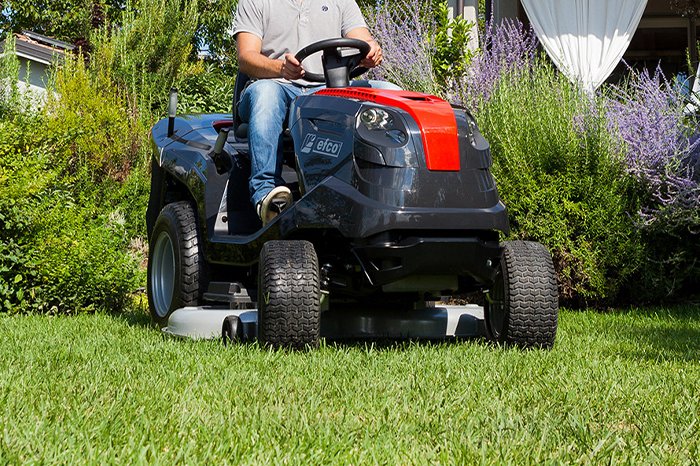 Garden tractors and maintenance
Just like cars and gardening tools, garden tractors also need to be taken care so that they remain efficient and have a long service life. So let's summarise the main checks you should carry out.
Before starting your garden tractor and beginning to mow:
Carry out safety checks on the battery, electric cables, fuel system and oil circuit.

Check the vehicle's safety devices.

Check the tyre pressure.

Set up the machine according to how you want to cut the grass and check that all the necessary components are intact and correctly assembled: grass discharge guards, deflectors, collection bag and mulching kit.
As for the engine, before starting the garden tractor inspect the fuel and oil levels. In addition, periodically check and, if necessary, change the:
engine oil

air filter

petrol filter

spark plug
When you have finished cutting the grass:
Wipe over the body of the garden tractor with a wet sponge (being careful not to get the engine and electrical components wet).
Clear grass residue, leaves and other debris away from the engine, exhaust silencer and battery housing.

Clean the ejection chute and collection bag on rear-discharge models.

Clean the cutting device: to facilitate operation, various Efco models are equipped with Deck Wash, a quick-fit coupling that connects to your hose pipe to wash the cutting deck.

Check for damage to the tractor components.
Still having doubts about which garden tractor to choose? You can also check out this article entitled Which tractor mower to buy and why.