With the arrival of summer, lawns and vegetation become greener and thicker. During this season, even more so than at other times of year, it needs regular cutting, clearing and finishing. And the same applies not only to grass and weeds, but also to brushwood and shrubs, reeds in ditches, bushes and saplings in the undergrowth. So for all these different needs, which trimmer line is best for your brushcutter?
Trimmer line and cutting heads for brushcutters: which to choose
There is a wide range of brushcutter line and heads on the market. They come in a dizzying variety of materials, sizes and colours, but essentially, making the right choice of trimmer line depends on two factors: the power of your brushcutter and the type of work you are doing.
How to choose the best trimmer line for your brushcutter
So, the first factor to consider is the type of brushcutter you have—electric, battery-powered or petrol engine—and its power output. This is because the trimmer line diameter and brushcutter displacement must be proportionate. Otherwise, the engine will be put under stress, power consumption increases and the tool's useful life is reduced.
So to achieve a good cut, the brushcutter motor and cutting head must rotate effectively; on the other hand, you need to consider the resistance of grass and air with respect to the brushcutter's trimmer line: the thicker the grass or trimmer line, the greater the resistance. Therefore, a thicker line is not always the best solution. What's more, if the line is too thick it will rip the grass rather than cut it cleanly, damaging it and compromising the look of your lawn.
The second factor involved is the type of vegetation to be cut: garden grass that is mowed very frequently needs the thinnest trimmer line compared with tough grass and scrub in a neglected field that may also be littered with stones. If you are clearing a ditch or a patch of scrub, it is better to opt for a thicker line, or a professional brushcutter line that delivers even better performance, because it is made of special material or has a specific cutting profile.
In the following paragraphs we provide some examples of brushcutter-trimmer line combinations that guarantee you a perfect cut. We will refer in particular to Efco brushcutters, but if you own a different model or brand of brushcutter, that's no problem: the examples apply to all models in the same power range, because Efco cutting heads for brushcutters are universal: you can mount them on any Efco model and, using adapters, any other brand of machine.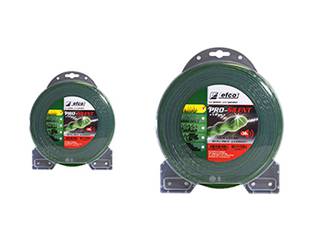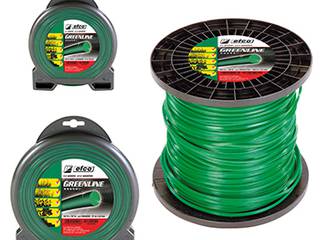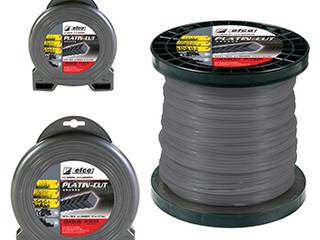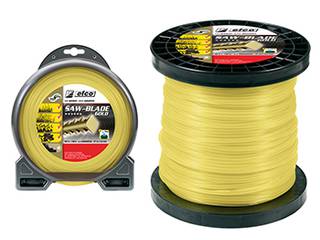 Brushcutter line suitable for weeds, scrub, reeds and small bushes
For battery-powered brushcutters like the Efco DSi 30, or electric or petrol-engine models with a small displacement (up to 25 cm³), there is no line more suitable than Pro-Silent spiral line. Aerodynamic, it enhances the performance of battery-powered or electric brushcutters and also ensures a good cutting speed. It generates less vibration and is quiet, making it suitable for cutting grass in residential areas.
Efco Greenline lines are ideal for grass, weeds and scrub: their high quality guarantees maximum resistance to wear and breakage. You can find them in various sizes and in different pack sizes: mini blister packs, blister packs or reels, so that you never run out.
If you have a lightweight petrol-engine brushcutter like the DS 2410 S with 21.7 cm³ displacement, you can use Greenline round or square line for brushcutters. Provided you select the right diameter with respect to the engine displacement, you can use Greenline round or square line for any petrol-engine brushcutter.
By contrast, Greenline round line for brushcutters is perfect for all brushcutters, whether petrol-driven, battery-powered or electric. If you have a more powerful lightweight brushcutter, such as the STARK 2500 TR model with 25.4 cm³ displacement, we suggest the 2.4 or 2.7 mm diameter Greenline round line.
If you need to cut down shrubs or reeds, the ideal tool is a medium power brushcutter (the DS 3500 S with 36.3 cm³ displacement, for example) equipped with 2.4 or 3 mm professional First round line. This line is flexible and strong, lasts up to 30% longer than conventional trimmer line and, by choosing the correct diameter based on the displacement, you can use it with all petrol-engine brushcutters.
These Efco brushcutters, as well as other brands of brushcutter in the same power class (using the right adaptors) can be fitted with a brushcutter head such as the Tap&Go or Load&Go models. With the Tap&Go brushcutter head, when the line is short due to wear, you can advance the trimmer line with the brushcutter still running, simply by tapping the knob of the cutting head on the ground. The Tap&Go head is available in different diameters: 105, 109, 130 or 160 mm.
With Load&Go heads, you can even load the line from the outside without removing the plastic casing, thereby eliminating hassle. These heads also work with the Tap&Go system and are available in various sizes—103, 110 and 130 mm—for use with different types and diameters of trimmer line.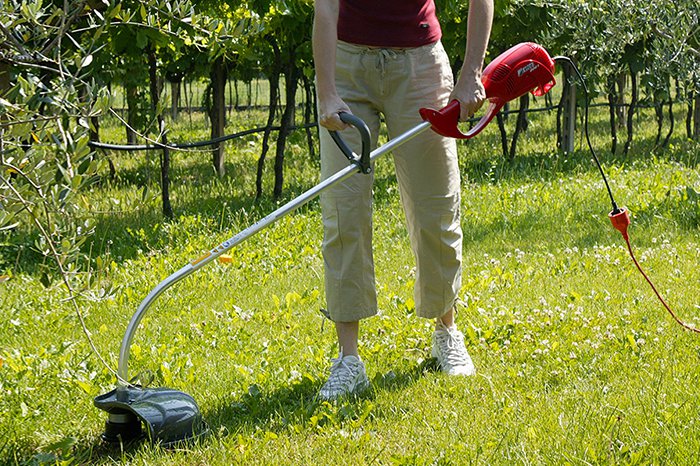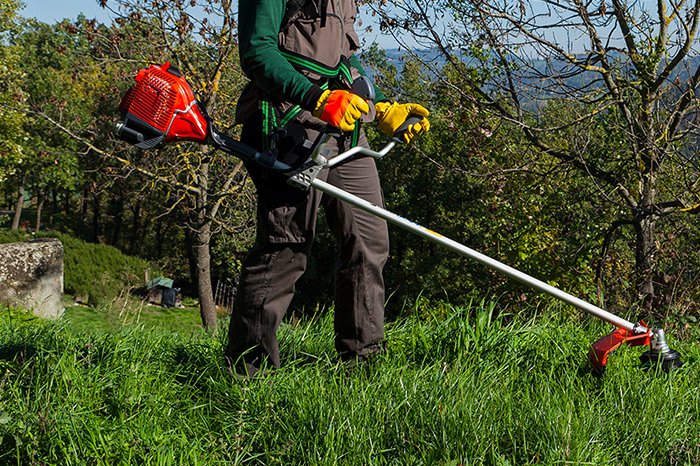 The best brushcutter trimmer line for the most demanding jobs
If in addition to cutting grass, weeds, scrub, reeds and small bushes, you also need to clear undergrowth or work on surfaces littered with stones or bordering obstacles such as walls or paths, then the perfect solution is professional brushcutter line, which delivers superior cutting performance. One example is Platin-Cut serrated square line, which we recommend for the DS 4000 T professional brushcutter with 44 cm³ displacement, but you can use it for models with displacements of 25 cm³ and above. With a double-layered, serrated square cross-section from 2.7 to 4 mm, it gives you up to 40% longer durability than conventional line.
Titanium round wire for professional brushcutters is available in diameters of 3 and 3.5 mm. The core assures exceptional breaking strength while the outer sheath makes it exceptionally wear-resistant. It is suggested for one of the most powerful Efco brushcutters: the professional DS 5500 BOSS model (52.5 cm³ displacement). Another trimmer line for professional brushcutters that we recommend for more powerful machines, such as the DSF 5300 backpack brushcutter, is the innovative and quiet Saw-Blade Gold sawtooth line from 3 to 3.5 mm in diameter: it has an effective, clean cutting action and is safer than a steel blade. You can use the professional Titanium and Saw-Blade Gold trimmer lines on brushcutters with a displacement of at least 35 cm³.
But what are the best cutting heads (multi-line or single-line) to use in these cases? Once again, on these Efco professional brushcutters, as well as on models of other brands in the same power class, you can mount Efco Tap&Go and Load&Go universal heads. Alternatively, for machines with displacement of 35 cm³ and above, you can opt for Efco universal multi-line heads in aluminium with 4 or 8 lines.