How can we give the environment a helping hand? Mankind's impact on the planet is affected by many factors, but in our own small way we can mitigate the effects by making eco-friendly choices every day. There are many possible ways in which we can reduce our environmental impact, such as by using water sparingly, sorting waste, reusing and repairing things whenever possible instead of throwing them away. We can also pay attention to the type of energy we use.
In this blog article, we talk not about photovoltaic systems that you can have installed on the roof of your house, but about battery-powered gardening equipment. That is because there are many good reasons for choosing cordless power tools: they promote an eco-sustainable lifestyle and, above all, they are easy to use. Keep reading to find out more.
Battery-powered gardening tools: they're eco-friendly
How can battery-powered lawnmowers, brushcutters, hedgetrimmer and blowers reduce our impact on the environment? First of all, they don't have a combustion engine that burns fuel, so they don't emit exhaust gases that contain a significant percentage of harmful substances. Consequently, they are pollution-free and make gardening healthier and more enjoyable.
Just like a mobile phone, battery-powered tools rely on rechargeable batteries. So, unlike tools with a combustion engine, they don't use fossil fuels such as petrol or fuel/oil mixture. The interesting thing about batteries is that they are interchangeable: so, for example, if you have an eco-friendly battery-powered lawnmower, you can use its battery to operate other gardening tools made by the same manufacturer.
Or, if your hedgetrimmer battery runs out of power while you're thinning out the garden hedge, you can replace it with another battery from the same manufacturer, including one of different capacity. But what is battery capacity? Measured in Ah (amp-hours), battery capacity gives you an idea of how long your machine can run before it needs recharging.
Efco offers you a new range of tools with rechargeable batteries, complete with battery and charger supplied. In this article we give you an overview of these battery-powered gardening tools. The batteries are lithium-ion and interchangeable, so all the machines—lawnmower, brushcutter, hedgetrimmer and blower—work with both the 2.5 Ah and 5 Ah batteries.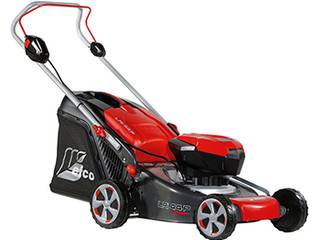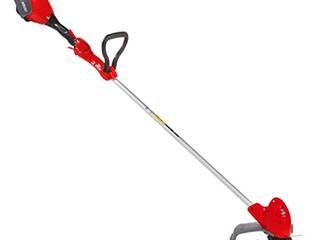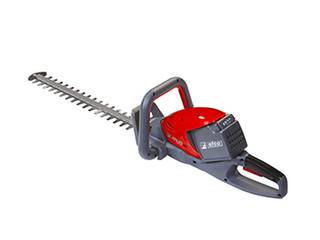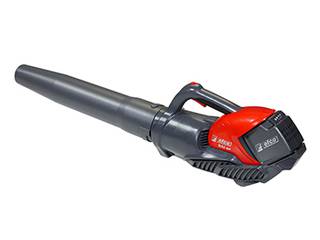 Battery-powered gardening tools: they're comfortable
Quiet operation is a major advantage of battery-powered gardening tools, so in terms of noise pollution they have low environmental impact. For example, if we look inside the Efco catalogue and compare the SAi 60 battery blower with petrol-driven models, the difference in sound pressure is over 20 dB (A).
Eliminating bothersome noise enables you to relax more while mowing the lawn, pruning hedges and cleaning the driveway, so keeping the garden tidy becomes a pleasant pastime rather than a chore. What's more, it means you can do gardening earlier or later in the day without annoying your neighbours.
But that's not all, because in addition to being quiet, battery-powered machines are also easy to use:
You don't need to refuel, prepare petrol/oil mixture, handle or dispose of flammable substances: in short, you can work faster, safer and cleaner.

To turn on a battery-powered gardening tool you simply press a button , which requires much less effort than pull starting a petrol-driven power tool.

They are lightweight and therefore more manageable: as a result, any gardening activity becomes a pleasure, even mowing an 800 m2 lawn, which is what the eco-friendly Efco LRi 44 P push-type battery-powered lawnmower can do between recharges.
Plus, battery-powered garden tools need minimal maintenance compared with petrol-driven machines. Of course, there are some basic maintenance tasks: just like petrol-powered tools, cordless equipment also needs some TLC to keep it in good shape. So, you still have to check lawnmower and hedgetrimmer blades, and replace brushcutter trimmer line, but there's no need to clean or change air filters, spark plugs, or empty out fuel before storing the machine, etc.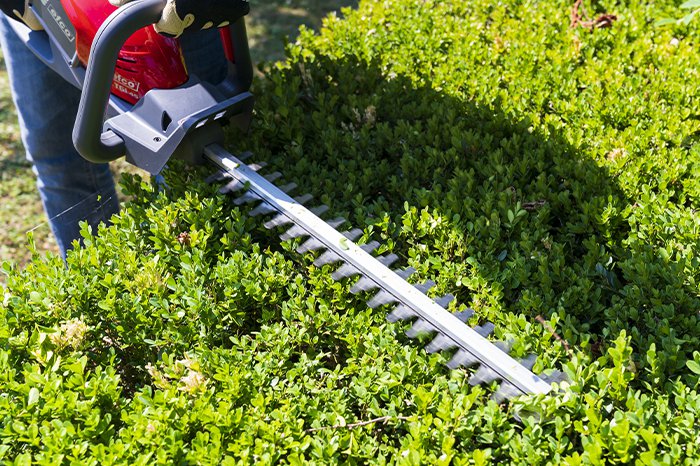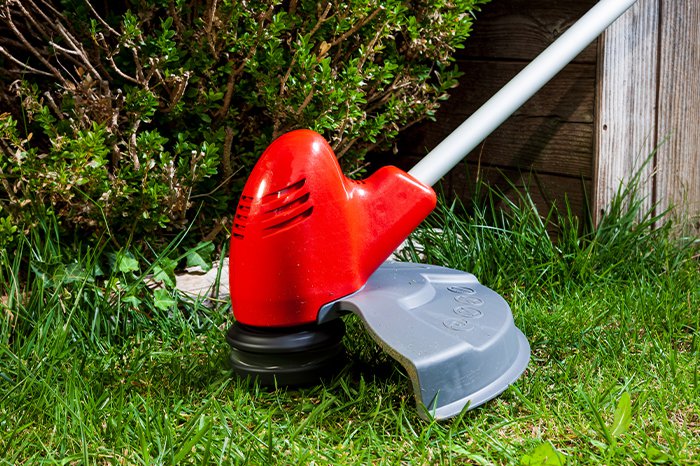 The user-friendliness of low environmental impact garden tools is a common feature of electrical tools, with the added advantages that you don't have to keep the power cord out of the way or stay near a mains socket. Imagine the luxury of being able to edge your lawn or move about freely with your brushcutter, without having to continuously dodge trailing leads. You can do it with a battery-powered brushcutter like the Efco DSi 30, which weighs only 2.9 kg with a power rating of 0.34 kW.
Finally, battery-powered machines are also much more comfortable in terms of vibration, which means you can work for longer without getting too fatigued in your arms, shoulders and back. For example, with a lateral vibration level of less than 2.5m/s², the TGi 45 battery-powered hedgetrimmer reduces vibration by a half or one-third compared with Efco petrol engine hedgetrimmers.