They're essential if you have numerous trees in your garden, or if you look after an orchard or olive grove in the countryside, or when collecting firewood in the forest. We're talking about chainsaws, and particularly pruning chainsaws.
Compared with normal chainsaws, pruning chainsaws have some specific characteristics that you should keep in mind when deciding which saw to buy. So how do you choose the best pruning chainsaw, and how should you compare the different models of pruning chainsaw with alternative models? We reveal all in this guide.
Pruning chainsaws: when to use one and why
As the name implies, a pruning chainsaw is used for pruning trees and shrubs in the garden, countryside and woodland. A versatile tool, it is designed for working safely from ground level and at height, whether from an aerial platform or when tree climbing with a harness. With a pruning chainsaw you can limb a tree, either before or after felling it, in order to remove branches from the trunk. With the most powerful pruning chainsaw models such as the 1.5 kW Efco MTT 3600, you can also cut trees with small to medium diameter trunks.
What differentiates a pruning chainsaw from other chainsaws? There are several characteristics that make them ideal—or even irreplaceable—for the uses we listed above:
Compactness: a pruning chainsaw is less bulky even than compact chainsaws, which are also not as powerful.
Weight: they are very light, even compared with a small-displacement chainsaw.
Short bar: pruning guide bars range from 25 to 35 cm in length. For example, the Efco MTT 2500 pruning chainsaw mounts 25 cm bars, whereas the MTT 3600 works with 30 and 35 cm bars.
Rear handgrip positioned on top of the chainsaw, which contributes to the machine's compact size. In addition, the high handgrip is very practical, because the throttle and throttle stop levers, engine stop button and chain brake are all within your reach.
In addition to conventional type guide bars, on a pruning chainsaw you can mount carving bars, which are short and triangular, with a thin tip. They are used by specialists for precision pruning and tree surgery (the removal of damaged wood from diseased plants), as well as by some enthusiasts for making wooden sculptures (chainsaw carving).
What are the alternatives to a pruning chainsaw? You can use traditional pruning tools (such as saws and loppers) or telescopic pruners, which can be motorised—for example, the petrol-powered PTX 2710 professional telescopic pruner—or hand tools such as telescopic pole pruners and saws.
Compared with manual equipment, whether telescopic or not, with a pruning chainsaw you have all the advantages of motorised power: you can cut through everything—including the thickest branches and the hardest wood—faster and with less effort, even if you have lots of branches and trees to prune, such as on an orchard. Irrespective of the power source (petrol, battery or electric), with a pruning chainsaw you can work up close to the plants, with greater control in terms of movement and cutting precision, unlike with a telescopic pruner.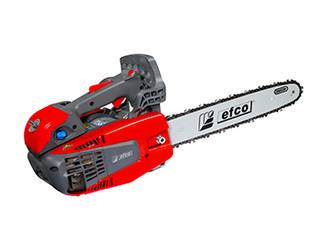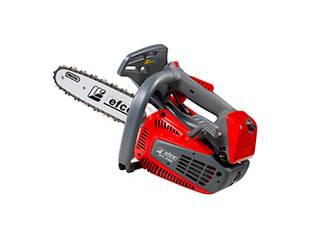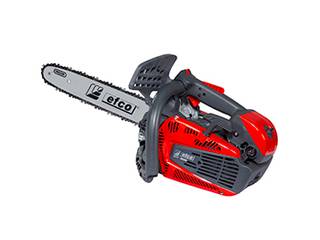 Best pruning chainsaw: how to choose
Now that we've clarified the advantages of pruning chainsaws, which one should you buy? How should you choose the best pruning chainsaw for your needs? Let's summarise the most important aspects to take into account when deciding on the ideal model:
Frequency of use and work intensity: based on how often and how much you prune, you can choose a professional or entry-level pruning chainsaw. This is an essential distinguishing factor, because it also determines your outlay.
Type of plants and wood to be pruned: branch diameter and wood texture (soft or hard) are both factors that determine the intensity of the job and, therefore, the quality of the pruning chainsaw you should choose.
Power: this should be proportionate to the amount of work, the diameter of the branches and the hardness of the wood that you need to tackle with your pruning chainsaw. The power rating is related to the power source: generally speaking, petrol engine chainsaws—such as Efco pruning models—are most powerful.
Work environment: if you are garden pruning in a residential neighbourhood, a battery-powered pruning chainsaw is better because it won't make much noise; whereas, if you are working in the countryside or woodland, a petrol engine pruning chainsaw like the Efco MTT 2500 or MTT 3600 will be just fine.
Practicality of use: consider the ergonomics of the handgrip design; the weight (even lightweight models must be balanced with respect to your physique) and the handling characteristics, which distinguish pruning chainsaws from all other chainsaws.
Fast maintenance: take into account all the solutions useful for maintaining your pruning chainsaw, such as: the side chain tensioner on Efco chainsaws, which enables you to tension the chain without touching it; whether it is simple to disassemble and reassemble the guide bar in order to turn it over or replace it; cleanliness and convenience of refuelling and topping up chain oil, and so on.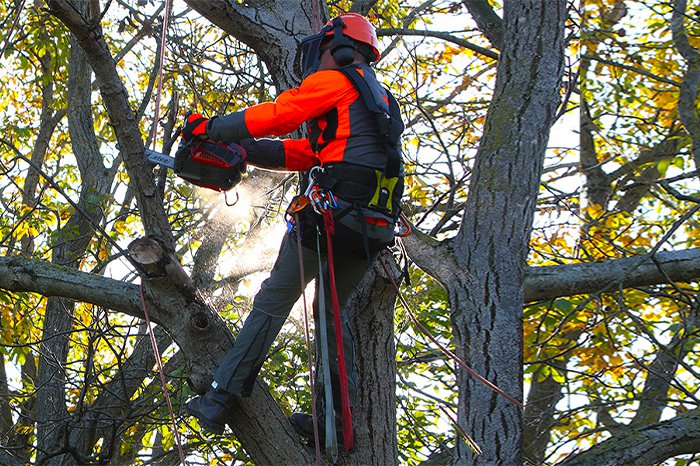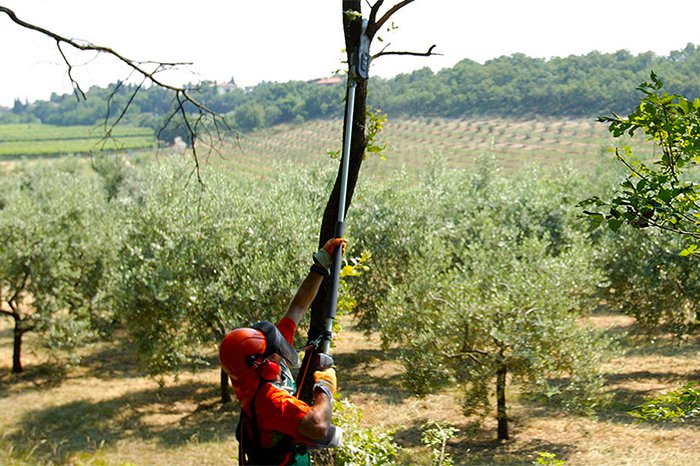 How to use a pruning chainsaw safely
As we mentioned, pruning chainsaws are lightweight and have a high handgrip, which makes them very manageable compared with other types of chainsaws, and therefore tempting to use one-handed. But remember — all chainsaws must be held two-handed. You can only use a pruning chainsaw one-handed if you are a professional and find yourself climbing up a tree in order to prune.
So, how do you use a pruning chainsaw? When the chainsaw is running, hold it with a firm two-handed grip: grab the rear handle with your right hand, the front handle with your left hand, and close your fingers around both handgrips. This position also applies to left-handers.
Why should a pruning chainsaw be operated with both hands? If the top of guide bar tip makes contact with a trunk or branch, you won't have enough strength to resist the sudden upward and/or backward jolting motion of the chainsaw (kickback). Also, one hand has insufficient control over the chainsaw, which could easily slip (and cause kickback) or otherwise injure your free hand and arm.
So here is how to use a pruning chainsaw:
Grip it with both hands, as explained above.
Don't reverse your grip by crossing your arms.
Don't cut above shoulder height.
Don't cut with the tip of the guide bar (this is the kickback danger zone).
Don't hold a branch (or any object) while cutting it.
Don't try to grab the cut pieces of wood as they fall.
If you are at ground level, stand to one side of the chainsaw (not behind it), with a balanced posture and both feet firmly planted.
If you are in a tree, check the harness, find a safe working position and operate the chainsaw with both hands.
In all situations, wear protective clothing.
If you want a deeper insight into the world of chainsaws, why not read this article on chainsaw accessories for maintenance, refuelling and safety.