Has summer left its mark on your garden? Is the lawn yellow and unhealthy looking, with weakened, thinned grass and even patches of bare soil? It can happen: for lawns, summer means heat stress and drought, especially in the hottest months of July and August.
Today let's talk about how to reseed your lawn to repair damage caused by sun and lack of water. By reseeding you can recover and revive a worn-out lawn, without having to remove the existing turf and start over from scratch. Lawn reseeding – or overseeding – is therefore a time-saving and cost-efficient technique for repairing seasonal wear, as well as damage due to trampling by people and/or animals.
When to reseed the lawn
You can reseed a damaged lawn after summer, between September and November, when the hottest period has passed but before the more intense colder weather arrives. In addition to mild temperatures, this operation requires plenty of water for the grass seeds to sprout and take root, so it may be a good idea to take advantage of rainfall during the period for watering the scattered seeds.
Grass reseeding must be performed on flattened lawns free from holes, ditches, weeds and pests. If the lawn has yellow patches, before reseeding ascertain whether it is a fungal disease and, if so, a few weeks before reseeding, apply a specific or broad-spectrum fungicide treatment, depending on whether or not you have been able to identity the fungus responsible.
Is lawn reseeding only done in autumn? No, you can do it in spring too, between March and May: this is what we recommend if in early spring you notice that the lawn looks the worse for wear following winter.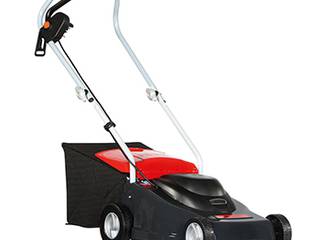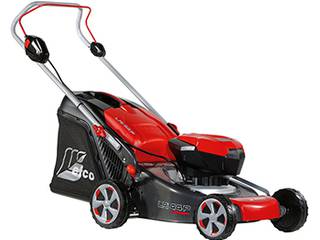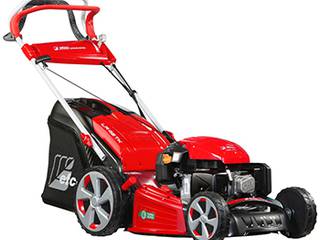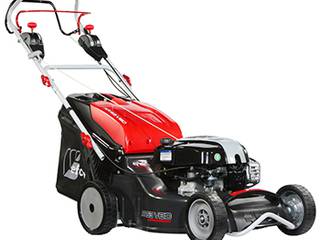 How to reseed the lawn
Have you decided to reseed a lawn damaged by summer heat and droughts? Here's how to reseed your lawn between September and autumn:
Start by cutting the grass short (approximately 2.5–3 cm) to prepare the lawn for reseeding.
Collect the clippings in your lawnmower's grass-catcher or using a rake.
Use a scarifier to get rid of thatch on the lawn: thatch consists of deposits of dry plant material that cover the ground, preventing light, oxygen and water from circulating and, in the case of reseeding, preventing the seeds from settling.
After a first pass with the scarifier, repeat the operation in a perpendicular direction.
Collect cut grass with a rake.
Sow seeds similar to the existing grass on your lawn: follow the recommended dosage per square metre and distribute the seeds evenly by hand (using the traditional broadcasting technique) or with the help of a fertiliser spreader or a tow-behind seed spreader. Sow plenty of seeds over the most damaged parts of the lawn.
Cover the seeds with a thin layer (5 mm) of soil or peat mixed with slow-release fertiliser.
Use a rake to evenly distribute the seeds, soil/peat and fertiliser.
Pass a roller over the lawn to make the seeds adhere to the soil.
Water the lawn and keep it moist for 10-15 days, so that the seeds germinate completely. Then water it as normal, based on the type of grass, the season and the soil characteristics.
Cut the new grass once it reaches a height of 10-15 cm.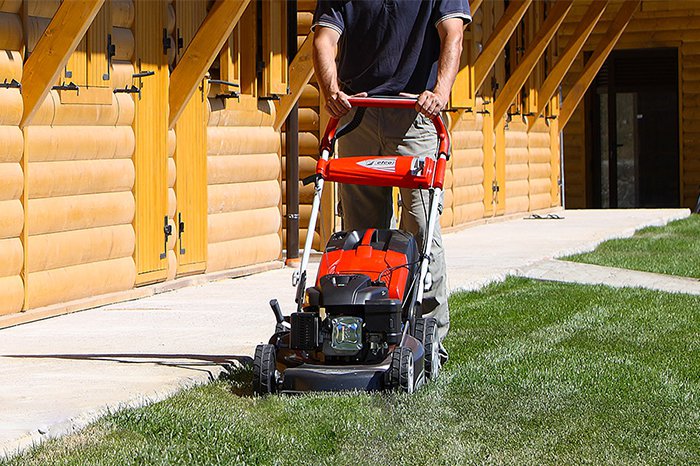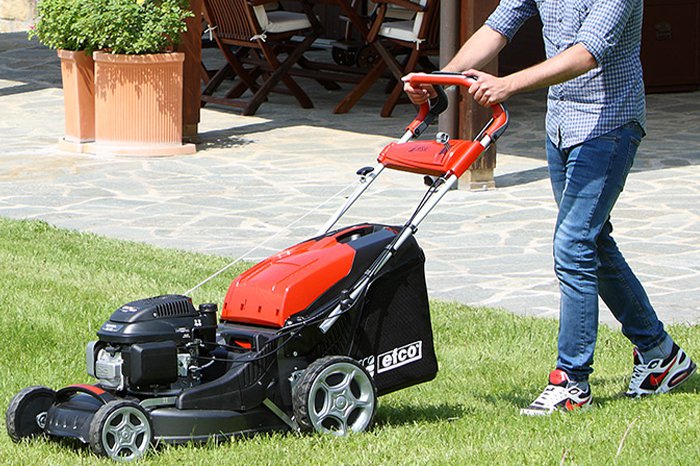 To prepare the lawn for reseeding, for the first cut after seeding and for subsequent periodic mowing, you can use am electric lawnmower such as the Efco PR 40 S, or a battery-powered lawnmower like the LRi 44 P.
Instead of a push-type lawn mower like the two models we just mentioned, you can opt for a self-propelled lawnmower, for example the LR 44 TK COMFORT PLUS and LR 48 TK ALLROAD PLUS 4 petrol models, which can easily mow surface areas between 1,200 and 1,800 m2. Among our self-propelled models, if you work on very large lawns measuring up to 2,400 m2, we recommend a professional lawnmower like the AR 53 TBX ALLROAD ALUMINUM or the AR 53 VBD ALUMINUM PRO.
Selecting the right lawnmower is crucial: the power supply, power output and cutting features must be chosen based on the size and characteristics of the lawn you are working on, the environment, and the time and energy you can dedicate to gardening.
Do you want to buy your first lawnmower, or replace an old one? You can take a look at these two guides, which we have prepared to help you choose: the first tells you what you need to know before buying a lawnmower, while the second explains everything there is to know about self-propelled lawnmowers.
To keep your lawn healthy even during the height of summer, and avoid having to repair it later by reseeding, have a read of our article how and when to water the lawn in summer.