Whether you are a professional landscaper or you just love gardening, buying a lawnmower is an important purchase decision. There are various factors to consider: the type of terrain that you usually work on (flat, sloping, uneven); the time you have available; the technical characteristics of the lawnmower – power source, power rating, cutting functions; and its shape, dimensions and construction materials.
Starting with the different power supply systems, in the following paragraphs we describe all the factors you need to evaluate before buying a lawnmower that helps you in your work or free time.
Electric or petrol engine lawnmower?
As with all other garden tools, the first big decision to make is what kind of power supply you want for your lawnmower. As you know, there are both electric and petrol engine lawnmowers to choose from.
Electric lawnmowers are lightweight gardening tools that are fairly quiet running and compact, ideal for mowing small-medium sized lawns. If you want a manoeuvrable, no-frills model suitable for gardens up to 300 m², the Efco PR 35 S is the model for you: it has an ABS deck, 25 L grass collector and weighs just over 12 kg.
Generally speaking, petrol engine lawnmowers are the most powerful type: they save time and enable you to cover large or very large areas. The Efco catalogue offers you different models with 4-stroke petrol engine, suitable for both garden maintenance and professional use. We present them in more detail in the following paragraphs.
Push-type or self-propelled lawnmower?
Another key variable to consider when buying a lawnmower is the propulsion system – either push-type or self-propelled – which affects the machine's manoeuvrability and the overall effort expended when mowing.
Push-type lawnmowers are a great choice if you work on flat areas spanning up to 1400 m². For example, the Efco LR 44 PK COMFORT PLUS has a 140 cm³ 4-stroke engine, steel frame, 70 L grass collector and, for added smoothness, wheels equipped with bearings.
Whereas, if you usually deal with larger areas, sloping ground or fairly uneven surfaces littered with depressions and bumps, you should opt for a self-propelled lawnmower. The same is true if you are mowing scrubland covered with very tall and tough weeds.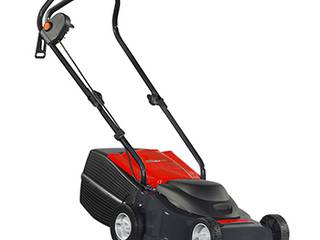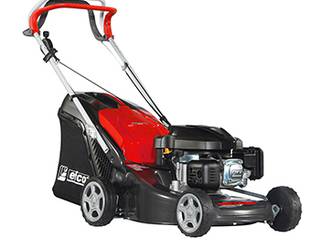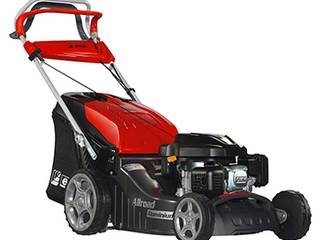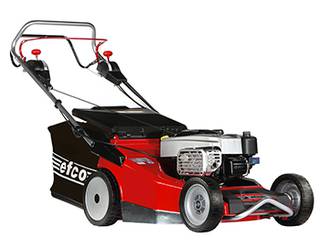 In the Efco catalogue you will find various self-propelled lawnmowers with up to several speeds. If you are an occasional gardener, you might want to go for a single-speed lawnmower with 159 cm³ displacement, 4-stroke petrol engine and a top speed of 3.6 km/h, like the LR 53 TK COMFORT PLUS and LR 48 TK ALLROAD PLUS 4 models.
They have a high-capacity 70 L grass catcher, adjustable cutting height from 28 to 75 mm and, with the LR 53 TK COMFORT PLUS , you can mow areas up to 2000 m². In addition to these models there is the LR 48 TK ALLROAD PLUS 4, which is a mulching lawnmower because the cutting system incorporates no fewer than four functions: grass collection, rear discharge, side discharge and of course, mulching.
Do you want a professional lawnmower?
If gardening is your job or even your hobby, then you could do with a professional lawnmower like the Efco LR 53 TK ALLROAD EXA 4.
It is very powerful, with a 196 cm³ displacement engine and a cutting system with collection, rear discharge, side discharge and mulching functions.
Instead of a lawnmower with steel deck, you could choose one with an aluminium frame. Efco offers a line of extremely robust professional lawnmowers with a 4 mm thick die-cast aluminium deck, including the AR 48 TK ALLROAD ALUMINIUM and MR 55 TBI models.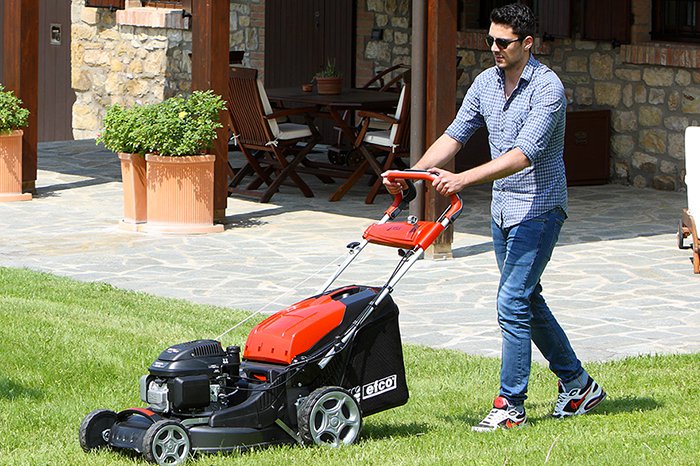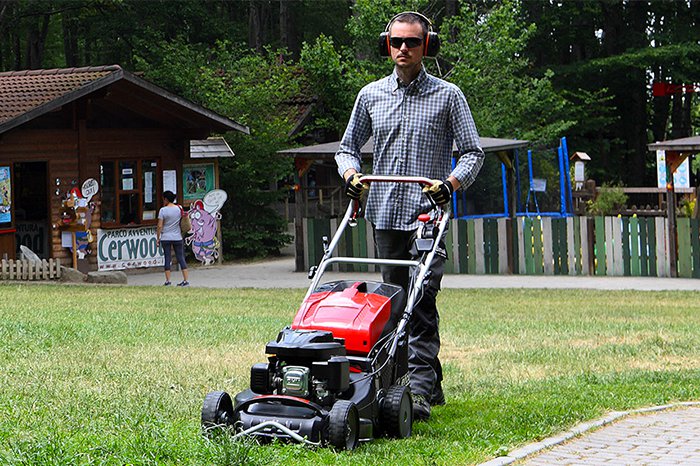 Using the AR 48 TK ALLROAD ALUMINIUM professional lawnmower with mulching cut system as standard, you can cover areas up to 2200 m², thanks to the wheel ball bearings that help you get around smoothly on every type of terrain. If you prefer to collect the grass clippings, you can keep mowing for a long time before the 80 L basket needs emptying.
The MR 55 TBI 3-speed model with a top speed of 4.5 km/h has a frame and wheels made of aluminium: it is robust, suitable for intensive and continuous use (up to 2,600 m²) and excellent load capacity with the 80 L grass catcher.