Brushcutters are a valuable ally for large and small jobs: if you have a garden to keep tidy, if you want to cut down weeds and shrubs on wasteland before tilling it, or if you have to clear ditches or undergrowth.
Brushcutters are practical because they enable you to cut wherever you want, with unrestricted movement, even where the most compact mowers cannot reach. They are extremely versatile because you can use them for all mowing jobs or only precision work, i.e. finishing the edges of a lawn. In addition, with a brushcutter you can cut not just grass or weeds, but also tougher vegetation—shrubs, bushes, brushwood, brambles, reeds and saplings—without the need for a hedgetrimmer, pruner or chainsaw.
Convinced that it's the tool for you? But which brushcutter is best? Let's see how to choose the ideal brushcutter to accompany you when working in the garden, countryside or woodland.
The best brushcutter: choose one based on the job in hand
To decide which brushcutter is most suited to your needs, consider the intended use, including the type of vegetation, the area you need to cover and the time you plan to spend on it. Do you need to edge your lawn after mowing it? Do you need to clear tall, tough weeds from your grass? Do you need to cut down brambles, shrubs and saplings in undergrowth? The intended use is the main criterion for deciding which brushcutter to go for, because it must be commensurate with the machine's power rating . So the simple rule of thumb is: the tougher the vegetation you need to cut, the more powerful the brushcutter needs to be.
Besides the brushcutter's power rating, the type of power supply is a consideration too. You can opt for a petrol engine brushcutter, an electric trimmer or a battery-powered brushcutter:
Efco petrol engine brushcutters include lightweight and professional models, as well as multifunction brushcutters such as the 0.9 kW DS 2410 D and 1.1 kW DS 3000 D. You can quickly convert them into a hedgetrimmer, pruner or blower without tools using the quick coupling and appropriate accessories.
The best brushcutter: other criteria to consider
In addition to the intended use, power rating and type of power supply, there are a number of other factors to consider when choosing the most suitable brushcutter for you:
Easy starting: find out whether it is easy to start. For example, Efco petrol brushcutters have the EasyOn system, which enables you to effortlessly start the engine in a few seconds with no kickback. Or you have the AlwaysOn switch: when you turn off the petrol brushcutter, it automatically returns to the 'ON' position
Comfort: does the brushcutter have a single or double handle? Is it adjustable and ergonomic? Can you attach a harness to keep the machine balanced and at the right height above ground?
Weight: when comparing brushcutters of the same type, consider their weight with respect to your stature and the duration of the job. In general, electric trimmers and battery-powered brushcutters are lighter.
Reduced vibration: is the brushcutter equipped with anti-vibration systems like Efco petrol-driven models are?
Noise: keep this in mind depending on your working time and surroundings. If there are houses in the vicinity, go for an electric trimmer or battery-powered brushcutter, which are relatively quiet.
Cutting width: this is an important performance indicator for brushcutters, as it determines how fast you can get the job done. For example, referring back to the models we mentioned earlier, the cutting widths are 30 cm for the DSi 30, 37 cm for the 8091, 38 cm for the STARK 2500 S, 39 cm for the DS 2410 D and DS 3000 D, and finally 42 cm for the DS 4000 T.
Fuel consumption for petrol engine brushcutters, or power consumption for electric trimmers and battery-powered brushcutters. These are factors to consider when budgeting for your new brushcutter.
Maintenance and running costs for oil, spare parts etc: these will also affect your running costs, just like fuel/power consumption.
Accessories: which type of line, head, blades or discs does your chosen brushcutter take? It basically depends on its power and the type of vegetation you need to cut (in practice, it comes back to the intended use).
Incidentally, do you know how to choose the right trimmer line for a brushcutter? An unsuitable line will damage both machine and vegetation. Would you like to know more? Take a look at our guide to choosing brushcutter line.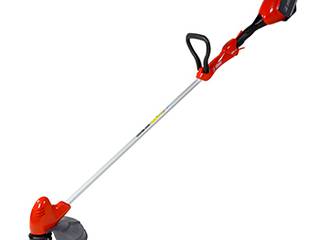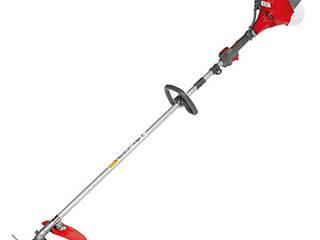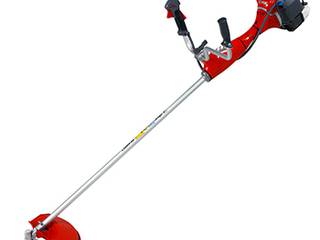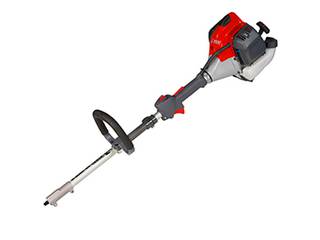 Brushcutter maintenance
To keep your brushcutter working efficiently and safely,
you need to maintain and clean it. Before performing these tasks let the engine cool down or, in the case of a battery-powered brushcutter, remove the battery.
Here we summarise the steps to follow every time you use a battery-powered, electric or petrol engine brushcutter:
Clear away encrusted grass and soil and dry the handles if they are oily or greasy.
Clean the enclosure air vents.
Check the tightness of nuts and screws, including those connecting the shaft arm to the head with trimmer line, blade or disc.
Check whether the line (or blade or disc) and protective enclosure are worn or damaged.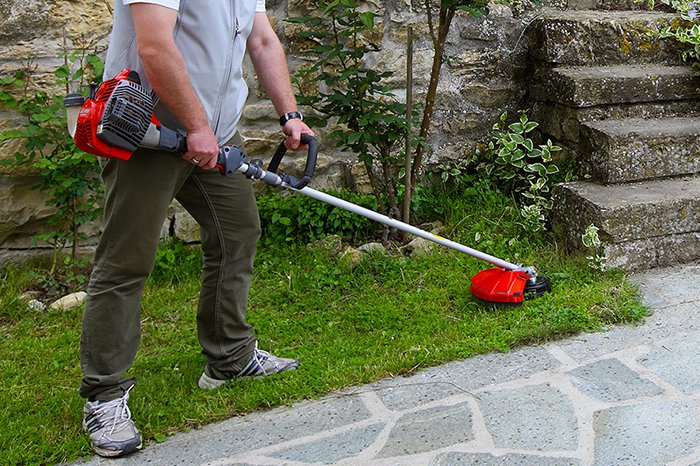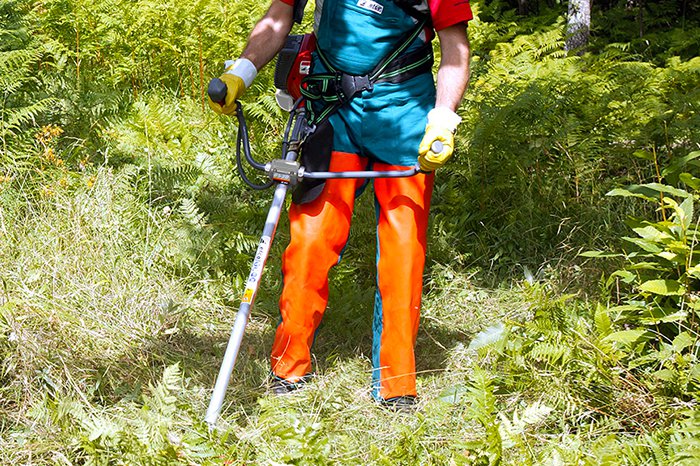 The above guidelines apply to all brushcutters, regardless of the power supply. Below, however, we provide specific guidance on maintaining the different types, starting with petrol engine brushcutters:
Clean the air filter after every 8-10 hours of operation or, if it is extremely dirty or damaged, replace it with a new filter.
Inspect the fuel filter once a month, clean it if necessary and, once it gets too dirty, change it (in principle once a year or every 100 hours of operation).
Keep the engine cylinder fins clean: once a month using a brush or compressed air.
Clean the spark plug and check the distance between the electrodes. Change it when necessary.
Grease the bevel drive and, every 30 hours of operation, check that it is lubricated.
How about battery-powered brushcutters? Here's how to carry out routine maintenance:
Check that the battery and charger are undamaged.
Keep the contacts of the brushcutter, battery and charger clean.
If you have an electric trimmer, check that the power supply cable and plug are not worn or damaged.
Always use original replacements: to find out which parts to buy—for example, which spark plug fits your petrol engine brushcutter—see the user and maintenance manual.
At the end of the season (if you use it intensively) or every two years you can have your brushcutter inspected by specialist technicians at one of our stores, which you can also contact for non-routine maintenance.