Chainsaws are indispensable for all sorts of activities (both demanding or otherwise) in the home and professionally: from cutting firewood and doing DIY, to seasonal pruning and tree-felling.
Which model of chainsaw you already own or plan to buy depends largely on whether you are a hobbyist or a professional, as well as the type of job you want to perform with it. Today we focus not on chainsaws themselves, but on chainsaw accessories, specifically all those additional components that are useful for maintenance, refuelling and safety. Finally, no article on chainsaw accessories would be complete without mentioning pruning accessories, the tools you need for precision cutting.
Chainsaw accessories: spare parts and maintenance
The chain is the cutting element of a chainsaw, while the guide bar serves to guide its rotation. Together these accessories make up the cutting system, so it is essential that you have some spares. Over time, it is normal for the chainsaw's guide bar groove to wear down until it needs replacing, and for the chain to wear out and the teeth (or "cutters") to lose their sharpness.
As you know, chainsaw guide bars differ in terms of shape, length, material and construction (for example, they can be solid or laminated): each of these characteristics suit specific applications. Follow the recommendations in the user manual to find out the approved guide bars for your model of chainsaw.
Among the accessories for Efco chainsaws, there is an extensive choice of guide bars for both electric and battery-powered or petrol-driven chainsaws, including for the Efco MTH 4000 basic chainsaw model, the MT 3710 compact chainsaw and the MT 4510 medium-powered chainsaw.
Sharpening and tensioning are crucial jobs for chain maintenance, as well as for ensuring the efficiency of the chainsaw as a whole. Make sure that the teeth are of equal length and sharpened to the same angle by filing them with a round file of suitable diameter (check the manufacturer's instructions). Alternatively, you can use an electric or manual bench-mounted sharpener or, for some Efco chainsaws, the patented Power Sharp system is available, which enables you to sharpen the chain in just 5 seconds without additional tools. The device consists of a sharpening stone, guide bar and a special chain: simply attach the sharpening stone device onto the guide bar and operate the chain saw at full throttle, while pressing the tip of the device hard against a solid object for several seconds.
If, as sometimes happens, the chain becomes loose, you can adjust the tension with the screwdriver tip of a combination wrench designed to remove the chainsaw's spark plug.
When the time comes to buy a new chain, you need to know its characteristics (tooth shape, tooth/link sequence, etc.), pitch and thickness. All chains are different: check whether the specifications are printed on the back of your chainsaw guide bar, or consult the user manual.
If you have an Efco chainsaw and you want to replace the guide bar or chain, but are unsure about which parts you need to buy, contact a technician at one of our distributors.
If you also want the guide bar and chain to work better and last longer, make sure they are adequately lubricated. That's why our chainsaw accessories include Efco Chain Lube chain oil, which protects against wear and seizure.
Do you want to know everything about the guide bar and chain? In our blog you will find two in-depth articles: one on chainsaw guide bars and the other on chainsaw chains.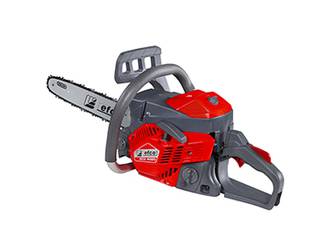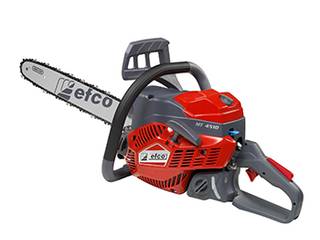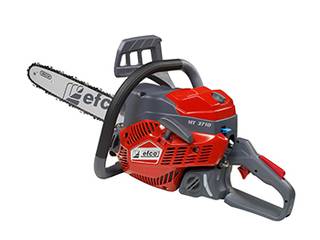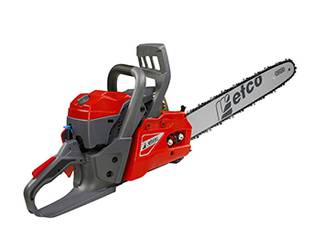 Chainsaw accessories: refuelling
There are various accessories designed to ensure easier refuelling of petrol engine chainsaws. They include approved jerry cans for transporting fuel, as well as twin canister combi-cans so that you can have both ready-made mix and chain oil close to hand. If your jerry can doesn't have a special quick fill spout for fast, safe and spill-free refuelling, you can pour the fuel mix into the chainsaw tank using a specific funnel with a strainer that retains impurities.
Don't have time to prepare fuel mix? You can buy it ready-made: Efco stocks Alkylate Mix in 5-litre packs, which is also suitable for chainsaws.
If instead of a petrol chainsaw you have an electric chainsaw, you might need a 25 m EC-compliant extension cord, which allows you to work conveniently and in total safety.
Chainsaw accessories: safety
The chainsaw accessories we most recommend are those that are essential for your safety. When working with sharp implements such as a chainsaw or pruner, you should take every precaution, starting with the use of a bar cover which, in addition to protecting you, shields the guide bar and chain from accidental knocks.
When using a chainsaw, wear all the essential anti-cut clothing, including gloves, jacket, trousers (or dungarees or leggings) and chain-proof forestry or trekking boots. Your head, face and eyes must also be protected—with a helmet, goggles or visor—from blows, falling branches, splinters of wood and so on. Your hearing must equally be safeguarded from engine noise (particularly when using petrol-powered chainsaws) by wearing noise filtering ear defenders, including with integrated helmet.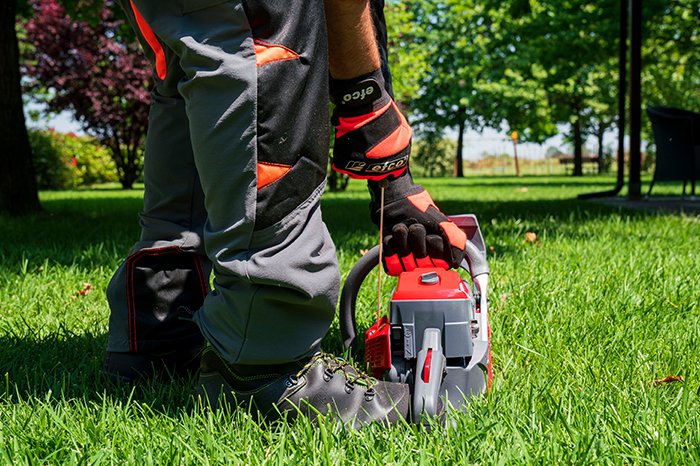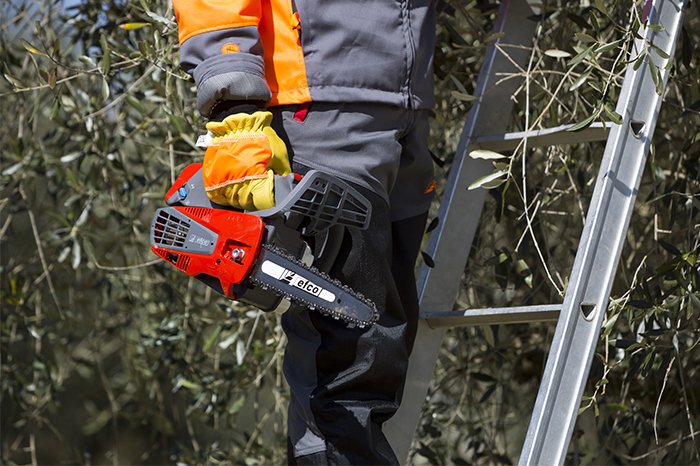 Pruning accessories: hand tools
You don't always need a chainsaw when pruning: sometimes, you just need traditional pruning tools such as shears, loppers and saws.
For the smallest tasks, it is vital to equip yourself with some manual pruning accessories, such as when pruning roses. Hand tools are a must for certain pruning tasks where a high degree of precision is needed, such as grafting and ornamental pruning.
With steel-bladed shears and loppers, you can effortlessly cut thick branches of between 2.5 and 4.5 cm in diameter. Whereas, using a saw equipped with a chrome-plated steel blade, you can cut off branches with ease: Efco stocks both straight-blade saws (folding or with sheath) and curved-blade saws. The latter, mounted on a telescopic pole, allow you to prune at height without a stepladder.
Do you want to learn more about the art of pruning? Try reading these articles on pruning conifers and how to prune maple trees.