Every gardener's toolkit needs a lawnmower for keeping the grass tidy. Mowing is one of the most frequent gardening tasks between spring and autumn. It helps lawns to cope with the changing seasons, including during colder months, so that it stays pristine and healthy all year round.
Of course, if you want a lush green lawn, cutting grass is not enough by itself. The lawn must be irrigated, fertilised, protected from various hazards (weeds, parasites and diseases), aerated and reseeded when necessary. In today's article, though, we focus on mowing and how to choose the best lawnmower. Find out more with us.
How to choose a lawnmower
If you have a tiny garden—it could be just a few square metres in front of your house—you might get by with a push-type lawnmower, which has no motor, only a cylinder with helical blades that rotate as you push. In all other cases it is better to opt for a motorised machine: depending on the type of power supply, that could be a petrol engine lawnmower, an electric lawnmower or a battery-powered lawnmower.
How to choose the best pruning chainsaw for your needs? Evaluate the job at hand by answering these questions:
How big is the area you need to mow?

Is it a garden that you tend regularly, a lawn that you mow occasionally, or an overgrown plot in the countryside?

Is it flat, steeply sloping or bumpy?

Is it open ground, or are there obstacles to negotiate such as trees, flower beds, outdoor furniture, play equipment or a tool shed?

Is it isolated, or surrounded by houses?

Is there a socket nearby to connect to the mains (which is imperative if you want to use an electric lawnmower)?
The lawnmower's power rating is a good indicator of its performance: the more powerful the better, whether you're mowing large, rugged areas or uphill lawns, or cutting tall, wiry grass.
The power output of a lawnmower is linked to its power supply. Generally speaking, petrol-engine lawnmowers are the most powerful. So if you are looking for a mower suited to rugged or sloping terrain, or if you want one to deal with overgrown land, we recommend you choose a petrol-engine model.
How to choose the right lawnmower? Although the primary factors in your decision are the power rating and type of power supply, which in turn depend on the required work load and the dimensions and characteristics of the area and grass to be mowed, it is also important to have an overview of the lawnmower's qualities:
Push-type or self-propelled (e.g. with wheels driven directly by the engine): choosing one or the other changes the way you work and the physical effort you expend, which are also factors worth taking into account.

Cutting characteristics: types of cut available (e.g. traditional rotary cut, mulching cut), cutting width, adjustable cutting heights.

Waste discharge system: side or rear, with or without grass catcher.

Build quality: including not just the deck, wheels and blades of the lawnmower, but also its interior workings.

Ease of use: ergonomics, weight, footprint, handling; handlebar adjustability and the possibility of folding for storage; noise emission; grass catcher capacity and level indicator; cutting height adjustment method; number of gears in the case of self-propelled models, etc.

Maintenance: essential for the efficiency, longevity and safety of every lawnmower, maintenance can be more or less demanding depending on the type of power supply and the lawnmower's features.

Price: should be commensurate with the type of work you usually do. It wouldn't make sense to purchase a model that's underpowered or overequipped for your actual needs. When evaluating your lawnmower investment, also take into account fuel/power consumption and maintenance costs.
A lawnmower is a must if you have a garden, but what other essential garden tools are there? Here you will find an overview of everything you need to garden like a pro.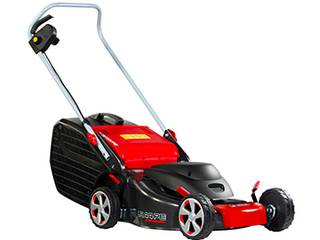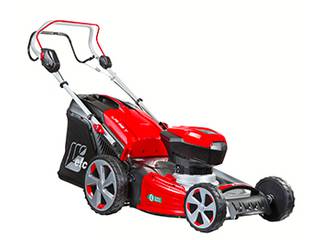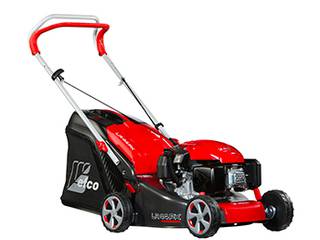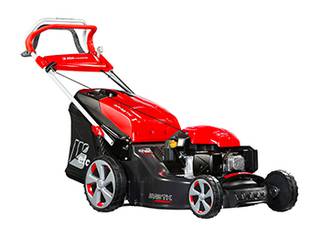 Electric lawnmower vs battery-powered lawnmower
Electric lawnmowers like the 1.5 kW Efco LR 44 PE COMFORT PLUS, which is suitable for areas up to 800 m2, are lightweight, compact and easy to handle. Don't fancy wasting effort pull-starting and refuelling a petrol-engine model? In that case, electric mowers are just the ticket. They are also quiet-running and emit no exhaust fumes, which is ideal if you don't want to disturb the neighbours when mowing. You will need a power socket nearby to connect the power lead, which you will have to drag around with you as you mow, being careful not to run over it with the blades. Electric lawnmower maintenance is quick and easy: just keep it clean!
Battery-powered lawnmowers don't require much maintenance either. They are fairly lightweight and manoeuvrable machines that come in both push-type and self-propelled versions, such as the LRi 48 T with double 5 Ah battery supplied as standard, giving you enough juice to mow lawns up to 500 m2 (the quick charger is also supplied as standard). With a battery-powered lawnmower you can work continuously without worrying about power sockets or cables, or even noise and exhaust fumes. Starting it is as easy as starting an electric lawnmower, because you just flip a switch.
Battery-powered lawnmowers are environmentally friendly and practical to use — we talk about them in detail in our article on battery-powered gardening tools.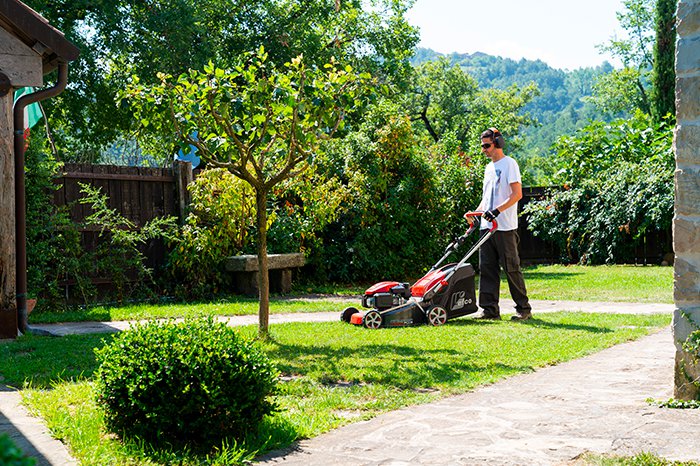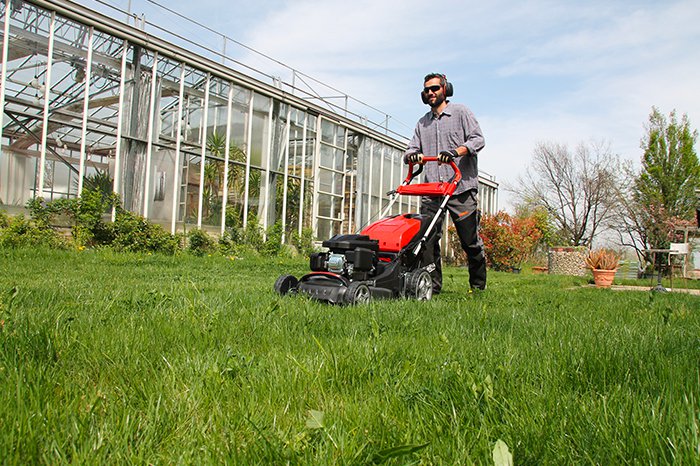 Petrol engine lawnmowers: for uneven, uncultivated and sloping ground
As we said, in principle petrol-engine lawnmowers are the most powerful option. In reality, most DIY stores and garden centres stock a range of models suited to all needs and budgets: from petrol-engine lawnmowers perfect for a small garden and others for medium to large-sized lawns, to professional lawnmowers that can easily cope with large areas, steep or irregular surfaces and expanses of tough, tall grasses and weeds.
In the Efco catalogue you will find a variety of lawnmowers: they include the LR 44 PK COMFORT PLUS push-type lawnmower, which outputs 2.4 kW power and is ideal for areas up to 1,000 m2, and the professional AR 48 TK ALLROAD ALUMINUM self-propelled lawnmower, which delivers 2.9 kW and is suited to areas up to 2,200 m2.
Are you leaning towards buying a petrol engine lawnmower, but turned off by the thought of having to start the engine? In that case, you can choose a lawnmower with battery-powered electric starter, like the LR 48 TKE COMFORT PLUS: just push the power button and start mowing.
Compared with electric or battery-powered models, a petrol-engine lawnmower gives you:
Total freedom to move around and organise your work however you like.

Weight and dimensions in proportion to the power rating: if you have a garden crowded with obstacles (trees, furniture, etc.), you're probably better off opting for the most manoeuvrable model. By the way, also bear in mind the space you have available to store the lawnmower.

Costs for fuel, engine oil, parts that need replacing periodically (air filter, spark plug etc.).

More laborious maintenance, although the payoff is a long-serving and perfectly efficient lawnmower.
If you still have any doubts about which is the best lawnmower for your needs, take a look at our article on what you need to know before buying a lawnmower.
Do you want to know more about self-propelled lawnmowers? Before you buy, read up on everything there is to know about self-propelled lawnmowers.