How should you not use a high-pressure washer? Let's start by explaining how it works. A high-pressure washer is a machine with a pump that delivers a certain quantity (or flow rate) of water at high pressure, in the form of a jet that you can direct using a spray gun. With a high-pressure washer you can take advantage of the natural washing power of water enhanced by the mechanical action of the pressure, as well as the chemical action of the detergent (if added to the specific tank) and the water temperature (if using a hot water high-pressure washer).
A high-pressure washer can do more than just clean — but more on that below. Today we will see what mistakes you should avoid before, during and after using a high-pressure washer, so that you get more out of it, in the most productive and safest way.
Mistakes to avoid before using a high-pressure washer
It's difficult to decide in advance whether a hot or cold water high-pressure washer is better. The first mistake is therefore to choose a high-pressure washer that doesn't meet your needs, by not paying attention to the type of dirt and the size of the surfaces you need to clean (outdoor paving, walls and partitions, cars and other vehicles, gardening and agricultural equipment, garden furniture and play equipment, etc.).
To ensure you make a carefully calculated choice, it is therefore important to evaluate the job at hand: to help you do that, here you will find a guide to buying the right high-pressure washer.
Once you've purchased a high-pressure washer, does reading the user and maintenance manual seem an unnecessary chore to you? On the contrary: not reading it prevents you from becoming familiar with the machine's components and safety devices—such as the pressure-limiting system or the lock for the gun trigger—and learning how to use it correctly and safely. For example, before starting the high-pressure washer, check that the water delivery is between the minimum and maximum flow rate, temperature and pressure values indicated in the manual. If you connect it to the water mains, install a check valve (disconnector); if the high-pressure washer is electric—as almost all Efco models are—the electrical system must comply with legal requirements.
Another mistake you should avoid is using a high-pressure washer without wearing PPE. We recommend the following personal protective equipment: face shield or protective spectacles, ear defenders or ear plugs (especially when using petrol-powered high-pressure washers such as the cold water IPX 2000 S), work trousers (or any long trousers), utility gloves (preferably waterproof), rubber safety boots (non-slip, heat-resistant, etc.). Here you will find our range of protective clothing.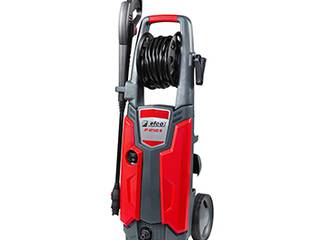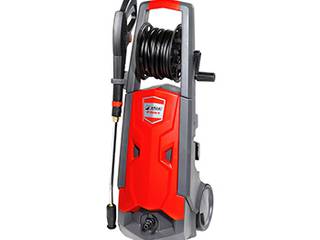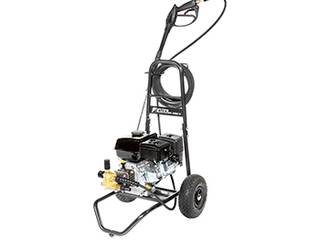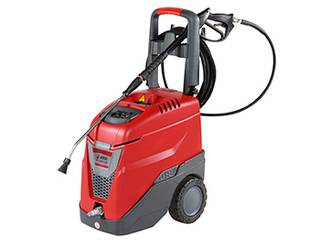 If you only use a high-pressure washer for cleaning, you are underestimating its potential. With special accessories (drain clearing attachment with corresponding jet nozzle and sand blast lance) you can use it for unblocking drainpipes and guttering, or even for sandblasting. Take a look at the potential uses of a high-pressure washer and how convenient it is even for things like maintaining a swimming pool.
Mistakes to avoid while using a high-pressure washer
When cleaning, the mechanical action of the water jet from a high-pressure washer makes a big difference compared with the effect of the water on its own. But on certain surfaces and materials, the pressure can be excessive and cause damage (to windows, garden furniture, tyres, etc.). In these cases, make sure to clean gently by keeping a certain distance, by adjusting the jet so that it is less concentrated, and by sweeping the jet from side to side, instead of focusing on one spot.
The high-pressure washer is also effective against stubborn dirt that water alone cannot shift. Prime examples are fat and oil (i.e. fat that is liquid at room temperature and therefore easier to remove), which are very difficult to remove without detergent. As well as using a hot water high-pressure washer, you also need a product capable of separating the particles from the greasy surface, so that they can be washed off by the hot water jet.
How to use high-pressure washer with detergent? The detergent must be specifically formulated for high-pressure washers, compatible with the material you are cleaning and at least 90% biodegradable. Avoid aggressive substances that may compromise the machine's operation and damage the surfaces being cleaned. Also, depending on the model of high-pressure washer, the spray gun nozzle may need to be adjusted to dispense detergent. In other cases you will need to replace it, or attach a special foaming lance with a built-in detergent tank.
In addition, to optimise and speed up your work, don't forget the benefits that high-pressure washer accessories can offer for specific jobs, such as a floor wash lance or a hydrobrush.
When you are using a high-pressure washer, not following the safety precautions listed in the user manual can be dangerous. Here are the main precautions you should adhere to:
Make sure that there are no people or animals in the work area.

Make sure that the high-pressure water hose is fully unravelled with no kinks; if the high-pressure washer is electric, the power lead, extension lead (if any), plugs and sockets must be kept dry.

Protect the water hose and power lead so that they are not crushed by vehicles and trampled by people.

Hold the spray gun firmly to resist kickback caused by the pressure of the water jet.

Don't point the jet at electrical equipment (including the high-pressure washer itself).

Don't leave the high-pressure washer unattended, especially if there are children nearby: when you take a break, turn it off and—if it's electric—unplug it from the socket.
In this video you will find the key steps for using a high-pressure washer correctly.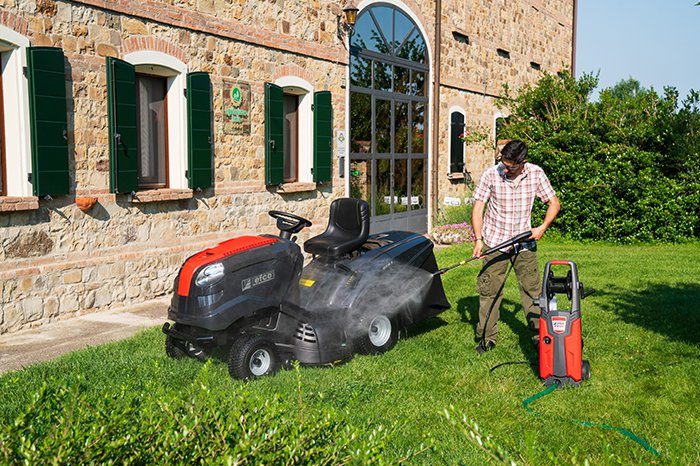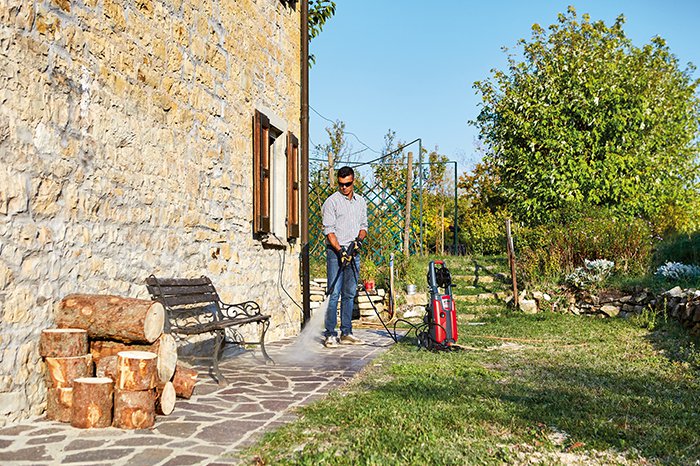 Mistakes to avoid after using a high-pressure washer
Something not to do, either with your high-pressure washer or with any other gardening tool, is to neglect maintenance, especially before storing it for the winter. Follow the instructions in the user manual for routine maintenance (cleaning the water filter and jet nozzle etc.). First turn it off, unplug it from the socket if it is electric (or remove the spark plug cap if it is a petrol model) and let it cool down. If the high-pressure washer is hot, run cold water through the system for a few minutes.
Before stopping, expel all water from the high-pressure washer by pressing the gun trigger (although any residual pressure must later be discharged). Limescale is a high-pressure washer's worst enemy: to get rid of it without ruining the machine, here you can find our guide to descaling your high-pressure washer.
For everything to do with non-routine maintenance (checking the pump and safety devices, cleaning the boiler coil assembly in hot water high-pressure washers, etc.) avoid doing it yourself and contact a specialised technician instead: for Efco high-pressure washers, your nearest service centre is at your disposal.