You can use one to finish the edges of your lawn or to clear away brambles. You can use one to mow the most inaccessible corners of your garden—where lawnmowers are off-limits—as well as wide open spaces.
We are talking about brushcutters, highly versatile gardening tools that enable you to perform both simple finishing jobs and much more demanding tasks. The difficulty level of your task may depend on:
Type of vegetation: with a brushcutter you can easily tackle tough wasteland grass or tall reeds;

Surface area: brushcutters give you an array of options ranging from precision work, where you can use them like a scalpel, to large-scale jobs;

Lay of the land: only a brushcutter enables you to trim banks, embankments and more with ease.
In this article we find out why and how a brushcutter can be your trusted ally whether at home, in the countryside or in woodland.
How to use a brushcutter: mowing and edging in the garden
From spring onwards, and for most of the year, a brushcutter is perfect for mowing the garden. Not only that: if you mainly use a lawnmower to keep your grass in check, with a brushcutter you can tidy up tufts that are inaccessible to mowers and edges along fences and walls or around trees, flower beds or the vegetable patch.
The ideal type of machine for this type of task is an electric trimmer like the Efco 8061 with 0.6 kW power rating. Electric models are not only easy to use, lightweight and easy to handle, they are also quiet running, less prone to vibration and emit no polluting gases, unlike petrol-driven models. In short, they enable you to enjoy gardening in comfort and without disturbing the family or neighbours.
Battery-powered brushcutters are also a perfect solution for the backyard lawn, such as the DSi 30 complete with 2.5 Ah battery and charger. In addition to the benefits of electric trimmers, battery-powered brushcutters give you the added advantage of not needing a nearby power socket and not having to wind/unwind the cable or risk tripping or running over it as you mow.
The 8061 model has a Tap & Go head with 1.65 mm line, while the DSi 30 has a Load & Go head with 2 mm Pro-Silent spiral line. Both these types of line are perfect for cutting grass, but let's focus on the line heads. With the Tap & Go head, when the line is worn down, you can dispense more line simply by tapping the head on the ground while the brushcutter is running. By contrast, the Load & Go enables you to load more line in seconds without disassembling the head enclosure.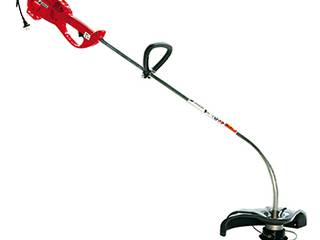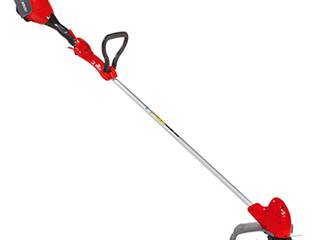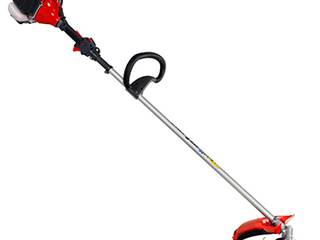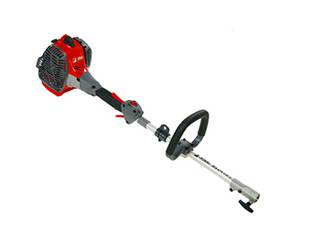 How to use a brushcutter: mowing large areas or scrubland and cutting down tough vegetation
Do you need to cut grass on large grounds around the home or in the countryside? You can use a multifunction brushcutter like the Efco DS 2410 D with 0.9 kW power rating. You get a brushcutter application with two attachments as standard: a Load & Go head with 2.4 mm line and a 3-tooth blade in special steel with 25.5 cm cutting diameter, which makes light work of the toughest vegetation. On the DS 2410 D you can also install 2.4 mm Greenline square line, which slices through weeds and brushwood as well as grass.
Investing in a multifunction brushcutter is even more worthwhile if you are thinking of building up an all-round gardening kit. With the DS 2410 D you have another three very useful tools all rolled into one: a hedgetrimmer, pruner and blower. Simply attach the appropriate accessory to the motor, which takes just seconds and requires no tools.
If you need to get rid of small shrubs or clear away reeds you can use a medium power petrol engine brushcutter like the 1.6 kW STARK 4410 S, which is effective even when used continuously in demanding environments. It comes with a Load & Go head and 3 mm line designed to cope with dense vegetation, or you can equip it with special 3 mm or 3.5 mm Saw-Blade Gold sawtooth line for tackling the toughest underbrush.
On the subject of brushcutter line: are you wondering which type is right for your needs? Selecting the right line depends on two interdependent factors: your brushcutter's power rating and the job at hand. Here's a guide to choosing brushcutter line. Alternatively, Efco sales outlets and service centres can always offer you expert advice.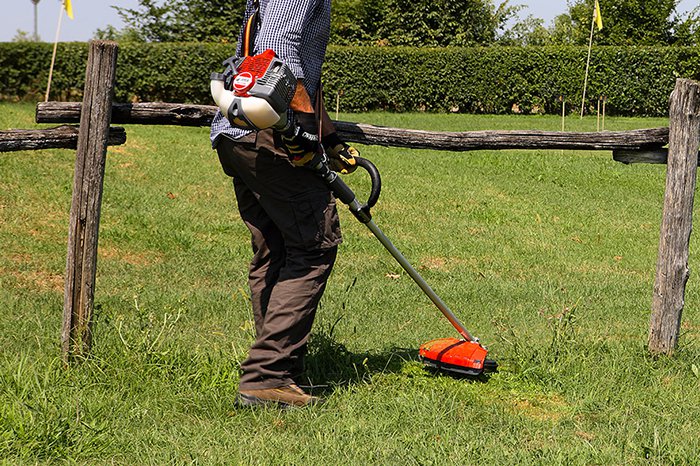 How to use a brushcutter: mowing large grounds and cutting down undergrowth
If you work on large areas, perhaps on uneven ground, or up embankments with the added challenge of rugged vegetation and underbrush, we recommend a professional brushcutter. Professional brushcutters are designed for prolonged and intensive use and can also be used to tidy up public spaces such as parks.
For this kind of activity, the Efco professional brushcutter range includes the 2.4 kW DS 5300 S model, which is supplied with a Load & Go head and 3 mm line plus a 3-tooth brush disc made of tempered steel with 30 cm cutting diameter.
In addition to the standard trimmer line, you can equip your DS 5300 S professional brushcutter with a variety of brushcutter lines, including the most innovative and high-performance types such as Platin-Cut serrated square line, which lasts up to 40% longer than traditional lines. The DS 5300 S is also compatible with several brushcutter accessories in tempered steel: grass blades, toothed discs in various sizes and shapes, and a curved 2-tooth shredder blade.
Want a guide to choosing the right brushcutter for you? Try reading this article entitled which is the best brushcutter: a rundown of all the features you should consider to ensure a sound purchase.