A brushcutter is a multipurpose tool that you can use both for finishing work and for cutting down saplings. A suitable cutting attachment is needed for each different usage situation. So, here we explain how to assemble a brushcutter blade or disc:
Make sure the engine can't be started accidentally, for example by removing the battery or detaching the spark plug boot.

Turn the brushcutter so that the gearbox is at the top.

Remove the line head.

Mount the disc or blade on the upper flange, paying attention to the rotation direction of the cutting attachment.

Overlap the bottom flange and casing, finally fasten the nut, turning it anticlockwise to tighten it.

Insert the pin provided into the hole located on the side or top of the gearbox, to lock the drive shaft so that it does not turn when mounting the brushcutter blade or disc (you may have an Allen key instead of a pin).

Tighten the nut with a socket wrench (this tool may also be supplied with the product, as is the case for Efco brushcutters).

Remove the pin securing the drive shaft: the brushcutter is now ready for cutting with the blade or disc.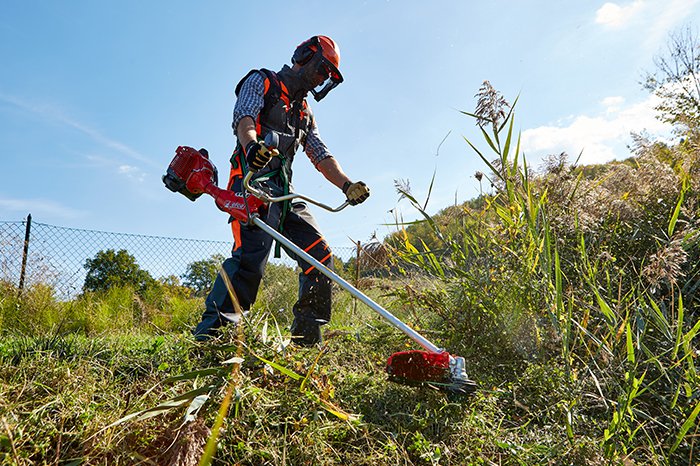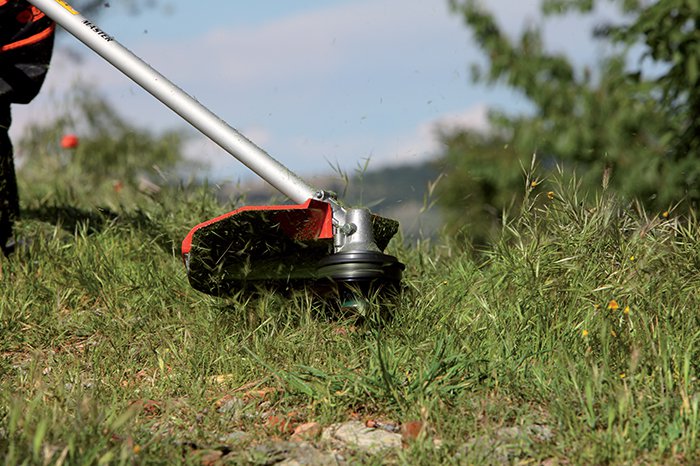 The same procedure applies when replacing the blade with another blade or with a disc. Not all brushcutters can be fitted with a blade or disc: generally speaking, less powerful models only use trimmer line (here you can find our guide on how to change brushcutter line).
In any case, the steps we have listed are the generic procedure for fitting a brushcutter disc or blade, which varies depending on the make and model: see the user manual of your machine to find out its features and how best to maintain it (plus, read here what to do if your brushcutter won't start).
We mentioned that the brushcutter is a versatile tool: not only are there various brushcutter models to choose from, there are also different types of trimmer line, suitable for even the most stubborn vegetation (weeds, brushwood, reeds, brambles, small shrubs and saplings). Here you can find a guide to spare parts and tips on choosing trimmer line for brushcutters.