How to choose a chainsaw? Which is the best chainsaw? It depends on your point of view, but the main thing to consider is what you will use it for, the task(s) you want to accomplish: is it for your hobby or your job? For occasional or frequent use? For light or intensive work? Will it be used in the garden or elsewhere? You may also prefer a multipurpose chainsaw—for gardening and DIY, cutting wood etc.—or for a specific activity (such as pruning).
Today we will start by recapping the main characteristics of chainsaws based on their power supply. Then we will focus on the key criteria that can guide your purchase decision—such as ease of maintenance or eco-sustainability—suggesting which chainsaw is best in each case.
Which chainsaw to choose: petrol-engine, electric or battery-powered?
Petrol-engine chainsaws are equipped with a 2-stroke engine. You will find a vast variety of models on the market, giving you numerous power options: from chainsaws for home use to professional-grade models, plus many others in-between.
For example, in the Efco catalogue you will find:
Compact chainsaws: suitable for cutting shrubs and small trees, pruning, limbing, as well as sawing firewood and doing DIY projects.

Medium power chainsaws: the right choice for frequent and intensive gardening (pruning, cutting small plants) and for the home (firewood and DIY).

Professional chainsaws: must-have machines for the heaviest tasks requiring maximum power, such as felling large trees and cutting up trunks.
With corded electric chainsaws and battery-powered chainsaws there is a bit less choice, but still more than enough options for pruning, cutting up wood for the stove or fireplace, doing DIY and more. We suggest this type of machine if you prefer something that is lightweight and comfortable to manage, or if it is your first purchase.
How to choose an easy-to-use chainsaw?
As we mentioned, which is the best chainsaw depends on your point of view, in other words, your priorities. If you want an entry-level chainsaw that is easy to use and straightforward to maintain because you are lacking in time or experience, we advise you not to choose a petrol-engine chainsaw. In this case, the best chainsaw would be an electric or battery-powered model: both are button-operated and require only minimal maintenance.
The one common denominator among all chainsaws is that the guide bar/chain assembly requires careful attention: given its importance, we have written guides focusing on guide bars and chains respectively.
Whenever you use a chainsaw, whatever the type of power supply, always wear cut-resistant protective clothing: gloves (including for maintenance jobs), jacket, trousers, boots and also a face shield/protective glasses, helmet and ear defenders.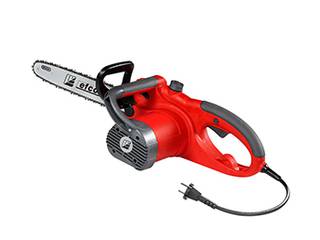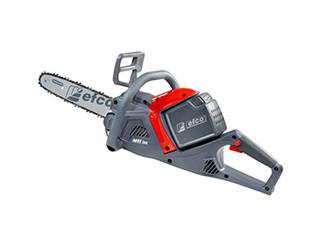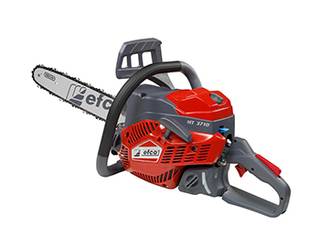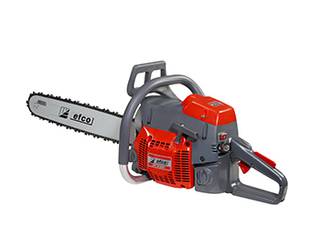 The chainsaw's internal combustion engine undoubtedly needs the most care. It is refilled with fuel mixture that must be prepared correctly; it needs pull starting, being careful not to flood the carburettor; you also need to periodically clean and replace the filters, spark plugs etc. (here you can find instructions on how to clean a petrol-engine chainsaw, which is crucial for optimal fuel/air mixing).
Fuel, spare parts and time commitments should be taken into account when calculating the cost of maintaining your chainsaw. With the battery-powered chainsaw, however, you only need to consider the battery charging time and whether it's worth investing in a spare battery.
As for practicality of use, both petrol-engine and battery-powered chainsaws give you greater freedom and the ability to work anywhere (in the countryside, woodland or in remote areas). After all, there is no power cable to hinder your movement—especially when pruning—and no need to stay near a mains socket. On the other hand, an electric chainsaw gives you unlimited running time, as long as there is somewhere to plug it in.
How to choose a chainsaw for home use?
Not all chainsaws suit every working environment. In contrast to petrol-engine models, electric and battery-powered chainsaws are best used in the garden, if you live in a built-up area (because they won't bother the neighbours) or inside the garage: that's because they are less noisy and don't emit exhaust fumes.
If you care about eco-sustainability, in our opinion battery-powered chainsaws are the most sensible choice: they don't use fossil fuels, don't emit polluting gases and have low impact in terms of noise pollution. As for battery-powered chainsaws, here are three reasons for choosing one.
The new MTi 30 cordless chainsaw and other Efco battery-powered garden tools have interchangeable batteries that work on all the machines, so only one spare battery is all you'll ever need.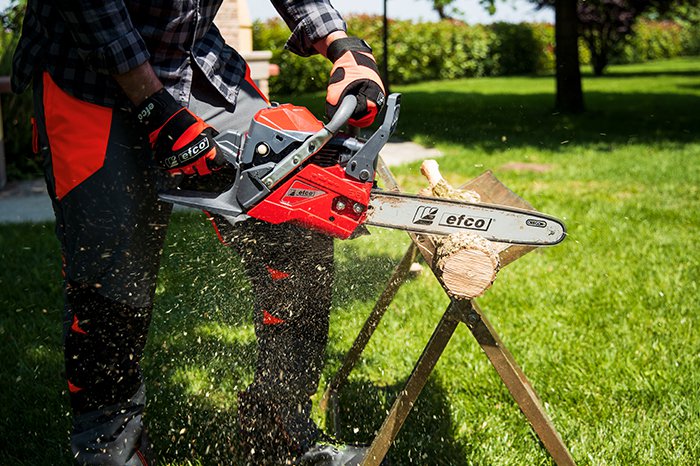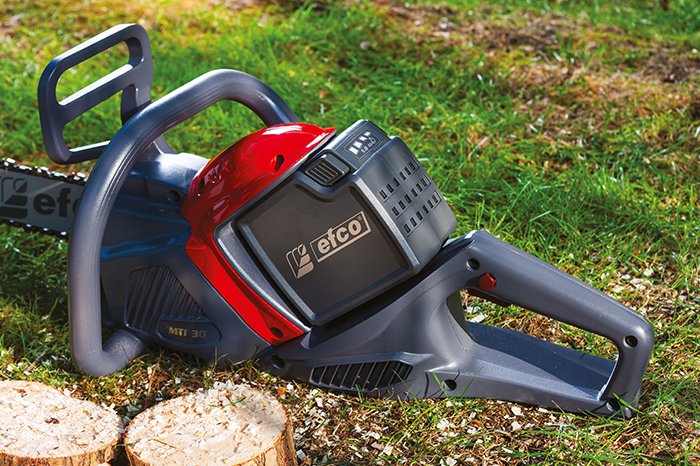 How to choose a high-performance chainsaw?
In most cases there are specific options to meet every specific need. Chainsaws are no exception: as we said earlier, if you need to fell large trees and divide up the trunks, you can only use a professional petrol-engine chainsaw. It's all a question of power, which must be proportionate to the required use—otherwise the chainsaw is placed under stress—and the length of the guide bar is a related factor. The engine power affects the weight, dimensions, vibrations and, consequently, the handling of the machine: these aspects should not be underestimated, especially if you are of slight physical build.
If you have to quickly prune numerous trees, perhaps in an orchard or olive grove, go for a pruning chainsaw,which is a specialised subcategory of professional petrol-driven chainsaw. They are compact, lightweight and suitable for holding one-handed while climbing. Find out here how to choose the best pruning chainsaw.
Another subcategory of petrol-engine chainsaws is telescopic pruners, which are ideal if you need to prune branches high up or from a distance while keeping your feet firmly on the ground. Optionally, you can have a pruner by mounting the appropriate accessory on a multifunction brushcutter.
Have you already decided which is the best chainsaw for you? If you don't have one yet (or have just bought one) and want to know how to start it first time and cut in safety, take a look at our guide on how to use a chainsaw.