Do you have a sloping garden? They can be impractical to maintain but, at the same time, offer unexpected opportunities. To take advantage of a sloping garden you have two contrasting solutions: follow the contours of the land, or reshape them. The two approaches are clearly different and which one you choose will affect the work to be done, the usability of the spaces, the type of vegetation you can plant, the maintenance methods and so on.
Having a garden with a more or less sloping surface is quite common, especially here in Italy, where around three-quarters of the terrain is hilly and mountainous. In today's article we talk about how to look after a sloping garden, whether you intend to preserve its natural inclination, or level it to create stepped terracing.
Solutions for taking advantage of a sloping garden
How should you organise a sloping garden? You can decide to leave the slope as is, bearing in mind that water and soil tend to move downwards due to gravity, which in this case will make the ground gradually less stable, rich and moist going from top to base. Therefore, it is essential to stabilise the slope by planting vegetation with strong roots, which will help to consolidate the soil.
We mentioned that in order to take advantage of a sloping garden you need to stabilise it, depending on the steepness and type of terrain. You can opt for a retaining wall at the base of the slope, using various materials—natural and otherwise—such as stone, bricks or interlocking concrete blocks. Otherwise, you can soften the slope using mini-terraces edged and supported by, for example, wooden posts and railway sleepers.
Which plants are more suitable for a sloping garden? It depends on the soil characteristics and local climate, but at the foot of the slope you should plant the most demanding vegetation (that requires more water and nutrients), whereas at the top you can plant more adaptable species. By way of shrubs, for example, you can choose anything from typical Mediterranean scrub species to conifers. Alternatively, you can turn the slope into turf by laying pre-seeded mats which, in addition to greening the slope, also limit soil erosion and water run-off, as well as loss of moisture and nutrients from the soil. Or you can convert your sloping garden into a rock garden reminiscent of alpine landscapes, using small-medium shrubs, herbaceous ground cover plants and decorative stones.
Sometimes it may be necessary to organise a sloping garden by dividing it into terraces, for example if the inclination is excessively steep, or the land is very high or not sufficiently stable. On the other hand, shaping a garden with terracing can be a wonderfully aesthetic solution, or simply preferable for practical reasons. In these cases, divide the garden into stepped levels by creating flat surfaces bordered by retaining walls made of wood, stone, bricks or prefabricated blocks.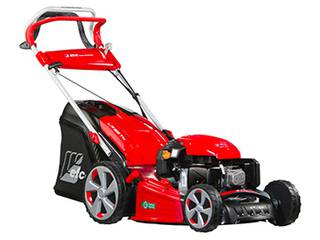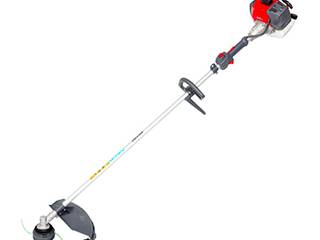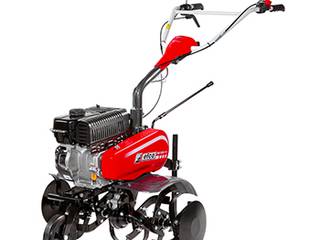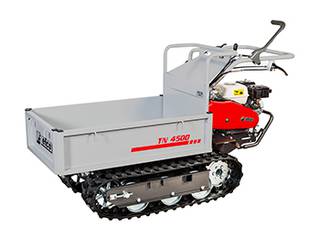 The beauty of a terraced garden is that you can harmoniously juxtapose different plants and functions simply by locating them on different levels. Terraces establish both a continuous flow and a disconnect between the different parts of the garden: you can turn a terrace into a lawn, a themed flower bed with shrubs and herbaceous plants, a vegetable patch, a space for ornamental and fruit trees, and even a relaxation or living area (perhaps with barbecue equipment) or an area for children's play, sports and so on.
Whether you want to retain the garden's natural slope or arrange it into terraces, to get up and down it you will need to create paths or steps using gravel, wood, stone, brick or stoneware.
However you decide to take advantage of your sloping garden, it makes sense to design it first: based on the current state of your garden, work out your needs, then organise the layout—first on paper—and decide which types of plants you want. In that regard, you will find our do-it-yourself garden design tips particularly handy.
How to maintain a sloping garden
Much of the work involved in maintaining a sloping garden—and all gardens generally—centres on the lawn, which requires regular care. The biggest job is cutting the grass, which is one of the most frequent gardening chores between spring and autumn. It is not just a question of aesthetics, but ensuring the health of the lawn: proper mowing helps the grass to grow thick and makes it more resistant to disease, heat, drought and cold. A healthy lawn is also more "competitive" against weeds, and cutting the grass periodically keeps infestations under control without the need for herbicides.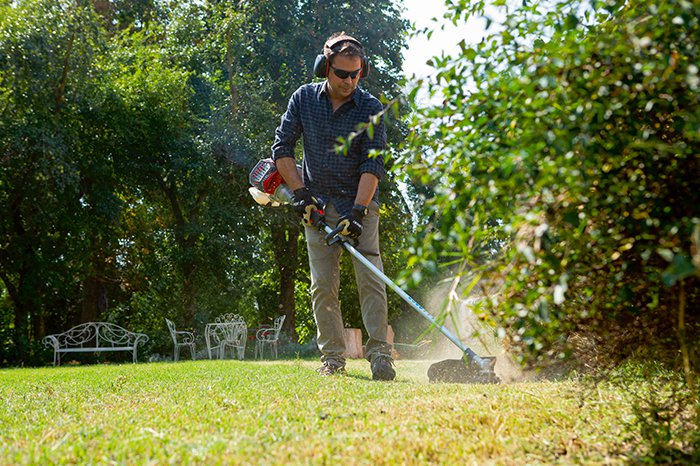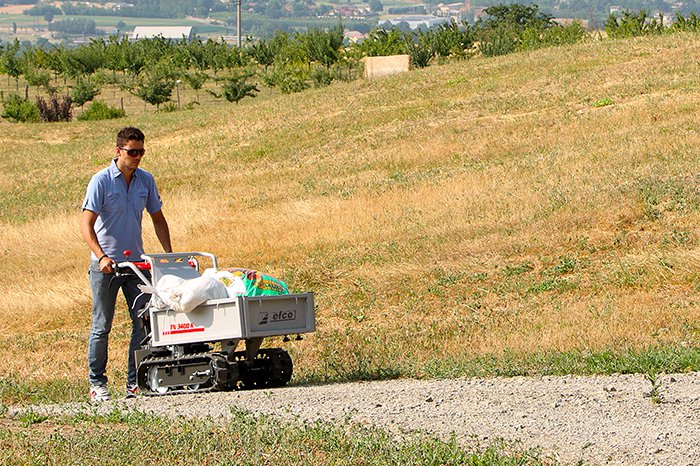 To mow a sloping garden you can use a brushcutter, which is the only tool that can cut grass along verges and embankments. If your garden is only mildly sloping, you can use a self-propelled lawnmower and mow across the slope (rather than up or down it). If the garden is terraced, you can use either a brushcutter or a lawnmower, depending on the width of each level. Lawnmowers and brushcutters can also be useful for reseeding after summer or winter, if the lawn is thinned out or has bare patches: we talk about this in our article on how to reseed a damaged lawn.
Throughout the year the lawn also needs occasional fertilisation to replenish the nutrients that help the grass to cope with the changing seasons, including nitrogen, phosphorus and potassium.
Another lawn maintenance activity worth doing in spring or autumn, though it is often neglected, is aeration to remove thatch and moss. Clearing dead leaves, grass clippings and pruning debris from the lawn not only gives your garden an orderly appearance, but also prevents the formation of thatch. While a rake is usually sufficient for this job, in autumn you can collect dry leaves faster with a blower. On this subject you can read our article explaining when and how to use a blower-vacuum.
If you've earmarked one of your terraces for a vegetable patch, you will need to till and fertilise its soil on a cyclical basis: during autumn-winter when the summer vegetables have exhausted their productive life, and as the winter vegetables stop growing. During spring, in the run-up to the seeding and transplanting season, you should instead perform more superficial tillage. In both cases you can use hand tools—a spade, pitchfork and hoe—or rely on a rotary tiller.
In a terraced garden, a rotary tiller can also be useful to periodically prepare soil in flower beds before planting bulbs and transplanting seasonal herbaceous plants, or to set up new flower beds in which to plant perennial shrubs and herbaceous plants.
For effortlessly transporting loads uphill and downhill, including your equipment, fertiliser/compost and everything you need to maintain your sloping garden, it's worth investing in a transporter. The transporter models in the Efco catalogue can climb slopes with a maximum gradient of 17% and have a tight turning radius, making them perfect for getting around and manoeuvring over narrow terraces.
Some features of your sloping garden will also need an occasional cleaning, such as the flooring used on terraces (especially living spaces), the stone or stoneware surfaces of steps and paths connecting the various parts of the garden, and the terrace retaining walls. A quick sweep or pass with a blower may not suffice: for a deeper clean or to apply specific treatments that eliminate algae or stains, you will need a high pressure washer.
Why not dedicate one of your garden terraces to fruit trees? Then you can put into practice our tips on how to start an orchard from scratch.