As the chilly season draws in, most gardening tools go unused for months. A manual or power tool's worst enemies are not just damp and cold, which damage metal, plastic and wooden parts. Dirt and the passage of time also damage them: think of the petrol or fuel mixture that deteriorates inside the tank and carburettor of tools with an internal combustion engine.
With this in mind, it makes sense to spend time preparing your tools for winter storage, which includes cleaning them, maintaining them periodically and storing them in a suitable place.
Clening garden tools before winter
Before starting, make sure that the moving parts of your garden tools are stopped—such as the blade of a lawnmower or garden tractor, or those of a rotary tiller—and ensure that the engine is turned off and cool. Beware of all hot parts too, such as the muffler on engine-powered machines, or the boiler and delivery circuit of hot water high-pressure washers. Always work safely: if the engine is petrol-driven, disconnect the boot cap from the spark plug. Is it electric? Unplug the power lead from the mains plug. If it's battery-operated, remove the battery pack from the machine.
Prepare your garden tool for cleaning: drain all water from your water pump or high-pressure washer, as well as discharging any residual pressure from the latter machine. Also empty and carefully clean the pesticide tank of your mistblower. Disassemble, empty and clean the grass-catcher of your lawnmower and garden tractor. If you have any gardening tools that are powered by a petrol engine, empty the fuel tank (and the oil tank, in the case of 4-stroke engines). To remove residual fuel from the carburettor, let the machine run until it shuts itself off.
Winter storage of gardening tools starts with cleaning. They should be cleaned every time you finish using them, but an especially thorough clean is essential before storing them over winter, especially if they have been a little neglected during the year. So:
Clean the exterior using a dry cloth, without using harsh or abrasive chemicals.

Wipe away any traces of oil and lubricant.

Unclog the engine air intakes.
If you have a garden tractor, use a sponge, detergent and garden hose to clean plastic body components. You can use a high-pressure washer, paying attention to electrical parts, the engine, exhaust pipe and gears (such as those on the wheels).
Following the instructions in the user and maintenance manual, clean the key elements of each gardening machine: the cutting deck and blade of lawnmowers and garden tractors, the cutting attachment of brushcutters, the blades of hedgetrimmers, the inlet water filter and jet nozzle on high-pressure washers, and so on.
While you're cleaning, check that the gardening tool is in good condition with no missing parts, all visible screws and nuts tightened, and all switches and controls in working order etc. If it's petrol-powered, also inspect the state of the starter cord and fuel tank. If it's electric, check that the power cable (including both ends, where it connects to the machine and plug) are not worn. If it's battery-powered, make sure that the battery is intact, including the contacts. If a part needs replacing, choose original spare parts recommended by the manufacturer for your specific model: if you have an Efco gardening tool, technicians are standing by to help at your nearest service centre.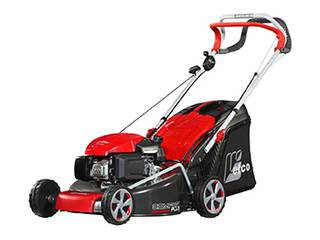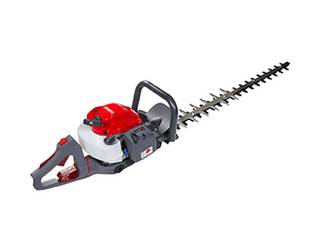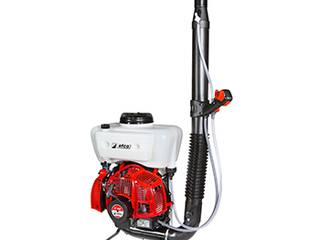 Pre-storage maintenance of gardening machines
Thorough cleaning of tools before winter storage is not enough. Why do we always say that maintenance is important? Because it preserves the functionality of gardening tools, making your work less tiring and safer; it also extends their service life, improves reliability, prevents breakdowns and avoids repair costs. The above is true regardless of whether the tool is petrol-driven, battery-powered or electric. That is why maintenance should be performed continuously in the months when you use your tools the most—between spring and autumn—as well as before winter storage, or whenever you plan not to use them for an extended period.
The cutting tool blades should be sharpened, since you cannot achieve a clean cut without a sharp edge. For hedgetrimmers, use a flat file and follow the instructions on how to sharpen hedgetrimmers. The procedure is slightly more delicate when it comes to lawnmower or garden tractor blades, which must be sharpened, balanced and reassembled very carefully: we recommend that you entrust this task to a service centre technician. In any case, when handling bladed garden tools, wear special chain-resistant gloves.
Before storing tools, lubricate the metal parts to prevent them rusting: hedgetrimmer blades, lawnmower wheel gears, brushcutter bevel drive (read our article on maintaining a brushcutter for more information) etc. Follow the routine maintenance steps: for tools with internal combustion engine, check and clean the air filter, fuel filter and spark plug, and replace them when necessary. Also clean the cylinder fins.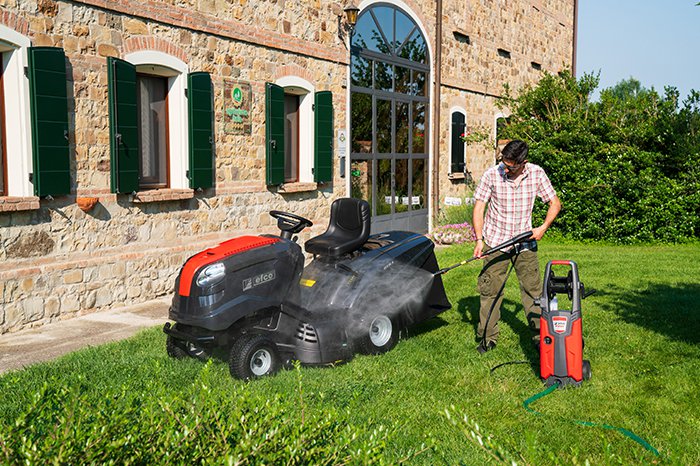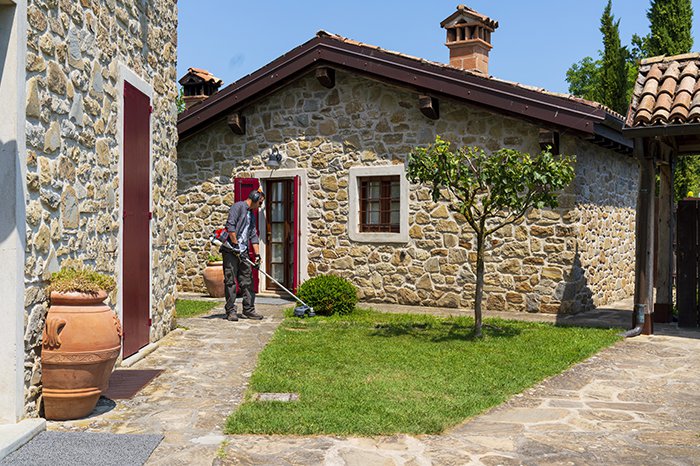 Storing garden tools for winter
How should you store gardening tools until spring arrives? By not dumping them in a cluttered corner of your garage, and definitely not by keeping them outdoors, where they are at the mercy of the weather.
We recommend that you set aside a dedicated enclosed area that is clean, ventilated, dry and sheltered from sunlight and frost. You can arrange them in an area of your garage or tool shed — why not use some old wardrobes or an outdoor storage box, if you have one? The important thing is that the structure is damp-proof and insulated from the ground. Keep the tools away from heat sources and chemicals (which may corrode the metal components) and don't place them in direct contact with the ground. The ideal solution would be to cover the tools, such as with a suitable lawnmower cover or protective sheet (but avoid plastic sheeting, as condensation can form underneath it). Fit the original covers and guards if you still have them, such as the blade cover for hedgetrimmers.
Then organise and maximise the space available for your garden tool shelter, especially if it is limited, by making use of shelves, cabinets, containers and wall hooks to tidily arrange everything you need. Besides gardening machines, you'll need to store away manual tools, pots, planters, watering cans, wheelbarrows, bags of soil and fertiliser, pesticide products and more.
Remember that batteries for battery-powered tools should be fully charged and stored in their packaging in a dry place, preferably at a temperature of 10–20°C and away from metal objects (which can cause short circuits). Recharge them every 2–4 weeks to prevent them from completely discharging. Garden tractor batteries must also be disconnected, charged and stored separately in a cool, dry place. In the case of electric garden tools, we recommend that they are stored with the power lead unplugged from the mains socket.
Speaking of gardening equipment, what do you need most in your armoury? Here is a roundup of the essentials that will get you gardening like a pro. You can also opt for some battery-powered gardening tools.
Are you considering a new purchase, or a replacement for an obsolete garden tool? If so, read these guides on choosing the right lawnmower or garden tractor, the best brushcutter, and to decide which is best out of an electric, battery-powered or petrol engine hedgetrimmer.