What is personal protective equipment or PPE? Italian Legislative Decree 81/2008, known as the Consolidated law on health and safety in the workplace describes it as: "any equipment designed to be worn and held by the worker in order to protect him against one or more hazards likely to endanger his safety or health at work, as well as any addition or accessory designed for this purpose". Ordinary work clothes are not safety PPE.
Personal protective equipment is mandatory at work, which also applies to people who work in the agricultural, forestry or garden maintenance sectors. However, it is also necessary for people who do their own gardening at home, so check out the user manual for your gardening tools, which typically include a section on recommended protective clothing.
In fact, gardening can be riskier than you might think: it all depends on the task, the equipment used and the situation in which you are working. Potential dangers include minor or more serious cuts or lacerations, bruises, burns (from hot tool parts, such as a muffler), and even becoming entrapped in rotating mechanisms (for example, the chain of a chainsaw or the rotor blades of a rotary tiller). Other possible risks include dust and chemicals affecting the eyes and airways, as well as falling branches and so on.
PPE reduces these risks, but doesn't guarantee safety. It is therefore essential to work carefully and follow all safety recommendations. You also need to be fully familiar with the safety devices and controls of your gardening tools, so always scrutinise the user manual beforehand.
Protective clothing for chainsaws and hedgetrimmers
Protective clothing that should always be worn when using a chainsaw includes:
Protective helmet (wherever there is an overhead danger of falling objects)

Face shield or protective spectacles

Noise filtering ear defenders or earplugs

Chain-resistant jacket

Chain-resistant trousers, dungarees or leggings

Chain-resistant gloves

Chain-resistant boots
Normally, cut-resistant clothing is made in high-visibility colours, which is important if, for example, you work in woodland or along busy roads. PPE for chainsaws must always be used regardless of the type of machine—whether for home or professional use, pruning chainsaws, telescopic pruners, etc.—and the power supply (on that note, we suggest you take a look at the differences between battery-powered, electric and petrol chainsaws).
The first step to working safely is knowing how to operate a tool and its components, especially the safety devices (such as the chainsaw guide bar cover, which we talk about it in our article on accessories for chainsaws). This is especially true in the case of more dangerous tools: read our guides if you want to learn how to use a chainsaw or how a pruner works.
Whenever you use a hedgetrimmer, wear the following personal protective equipment:
Face shield or protective spectacles

Noise filtering ear defenders or earplugs

Work jacket

Work trousers

Utility gloves

Safety footwear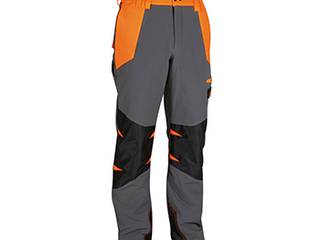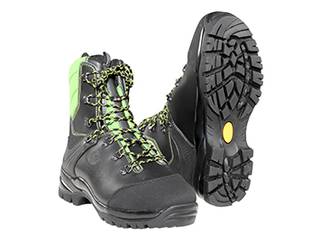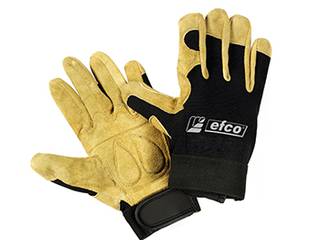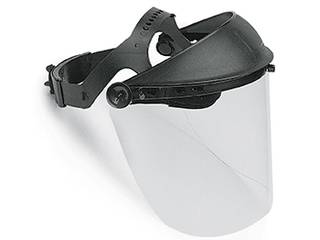 Safety PPE to be used for lawn maintenance
This is the protective clothing to be worn for brushcutters:
Face shield or protective spectacles

Noise filtering ear defenders or earplugs

Face mask (whenever you need to protect the respiratory tract from dust, debris, etc.)

Work jacket

Work trousers

Utility gloves

Safety shoes when cutting with trimmer line (or cut-resistant footwear if working with blades and discs)
The above protective clothing for use with brushcutters is also suitable for mowing the garden with a lawnmower, running over it with a scarifier and even clearing dense and thick-stemmed vegetation with a wheeled brushcutter or flail mower.
Noise filtering ear defenders or earplugs, work trousers, utility gloves and safety shoes are the PPE you should be wearing when climbing aboard a garden tractor.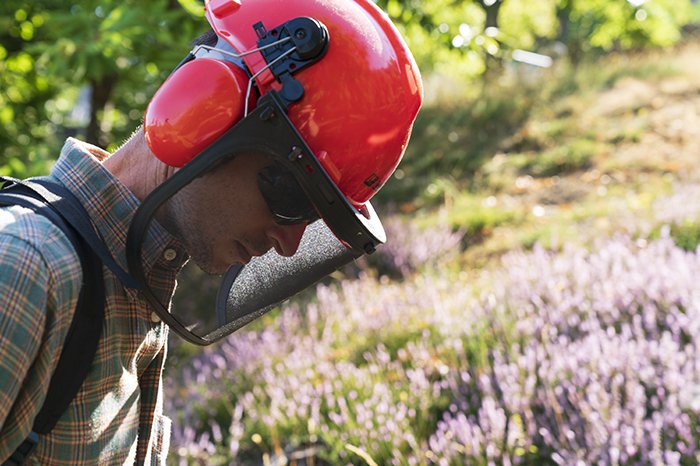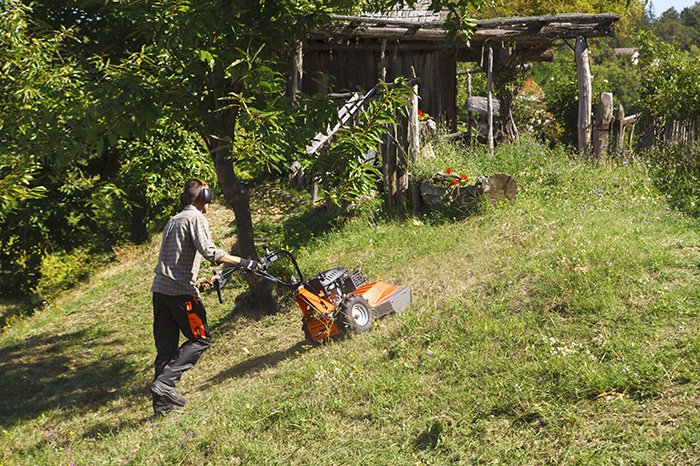 Safety PPE for other gardening tasks
To work safely when preparing the soil of your vegetable garden and flower beds with a rotary tiller, equip yourself with:
Face shield or protective spectacles

Noise filtering ear defenders or earplugs

Work trousers

Utility gloves

Safety footwear
Lastly, when handling plant protection products (insecticides, fungicides, herbicides etc.) and applying treatments with a mistblower, always use the following PPE:
Noise filtering ear defenders or earplugs

Full face mask with filter (or alternatively a half-face mask combined with protective spectacles)

One-piece overall made of chemical-resistant fabric

Waterproof and chemical-resistant gloves

Rubber safety boots