If you need to perform intensive mowing tasks or clear overgrown areas, undergrowth or road verges, or if you need to get rid of dense vegetation on clear sloping or uneven ground, the equipment you need is a shredder.
Depending on its features, a shredder has different uses and, consequently, more specific names. A wheeled brushcutter is for cutting tall and wiry grass (but that's not all, as we will see it later), whereas a flail mower is more suitable for cutting and chopping up thicker vegetation such as shrubs, brambles, brushwood and reeds, as well as pruning debris or crop residues.
So what is the best shredder? We talk about it in this article, clarifying the main differences between wheeled brushcutters and flail mowers.
Which is best — shredder, lawnmower or brushcutter?
Wheeled brushcutters are "hybrid" machines, halfway between a lawnmower and a brushcutter. With this single tool you can do just as much as could with the most high-performance models of lawnmower (especially over large areas) and brushcutter (particularly when mowing on slopes). With a wheeled brushcutter you can get larger areas done faster and, if you have to work uphill, with less effort.
For example, the new Efco petrol-engine wheeled brushcutters for home use and professional petrol-engine wheeled brushcutters can shred vegetation using reinforced mulching blades with a cutting width of 51-52 cm, even when working on slopes (up to 20%).
With a flail mower you can mow grass and weeds no matter how tall and tough, in addition to cutting and shredding vegetation up to 1.5 cm thick. Everything is reduced to fragments that are left scattered over the ground, enriching it with organic matter. With a wheeled brushcutter (and flail mower) there is no collection system, unlike with lawnmowers (and most garden tractors). However, once the green waste is pulverised into small pieces, it decomposes faster than grass cut using other systems that leave the grass blades intact (lawnmower without mulching cut, brushcutter or cutterbar mower).
As for the flail mower, the name itself is an indication of what it does. A flail mower can tackle even the most difficult vegetation and heavy-going terrain, such as uncultivated areas and woodland where grass, weeds, saplings and brambles grow unchecked and multiply rapidly, and where scrub, branches and deep carpets of leaves are left to accumulate on the ground due to a lack of regular maintenance...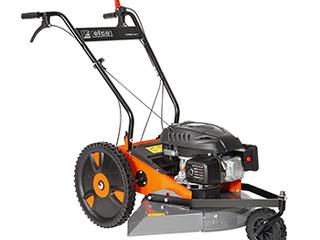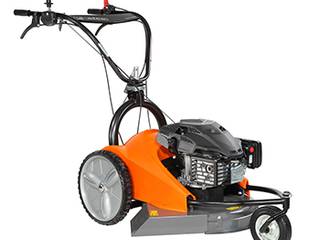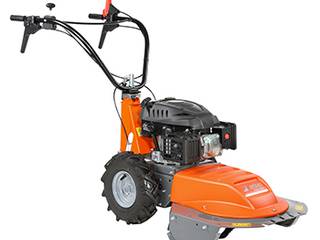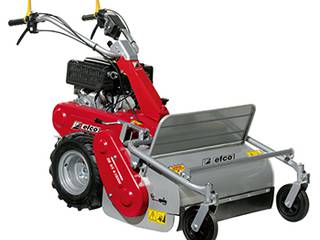 Wheeled shredders must be tough, especially their key component—the cutting unit—which must be able to shred thick vegetation and can vary in type depending on the machine (wheeled brushcutter or flail mower). Of course, the kind of work they can do is proportionate to the engine power. As we have seen, Efco petrol-powered wheeled brushcutters are equipped with reinforced mulching blades, whereas the Efco DR 65 K1100H, DR 65 HR11 and DR 80 HR11 professional petrol engine wheeled brushcutters incorporate a 65 or 80 cm roller with 38 or 46 strong Y-shaped blades respectively, depending on the model.
The forage harvester is a professional work tool that was designed for farming, so you can buy one as an accessory for hitching to a tractor, cutterbar mower, rotary cultivator or even a garden tractor. However, with a wheeled brushcutter or flail mower you have an autonomous machine (i.e. with its own engine) that is dedicated to a specific use and is therefore more effective. Furthermore, compared with multi-functional machines, wheeled brushcutters and flail mowers are more compact, stable (partly due to their low centre of gravity) and easy to handle, making them ideal for undulating and sloping terrain (for example Efco wheeled brushcutters can climb slopes with a 25% gradient). They are also useful when you need to manoeuvre around numerous obstacles or work between rows of trees, such as in vineyards or orchards.
Wheeled brushcutters and flail mowers are not purely gardening tools. In other words, flail mowers are not the optimal solution for precision work, or if you want a clean cut with no ragged bits, which is essential when grass health and appearance are the priority. In this regard, however, the mulching blades of a wheeled brushcutter guarantee you a better result. In any case, with both a wheeled brushcutter and a flail mower you can set your preferred height for cutting grass and vegetation in general, using a centralised control.
In short, if you need to mow the lawn in your garden, we recommend something other than a shredder: depending on the size of the lawn and the context, a brushcutter, lawnmower or garden tractor may be preferable.
To find out more, you can take a look at these guides: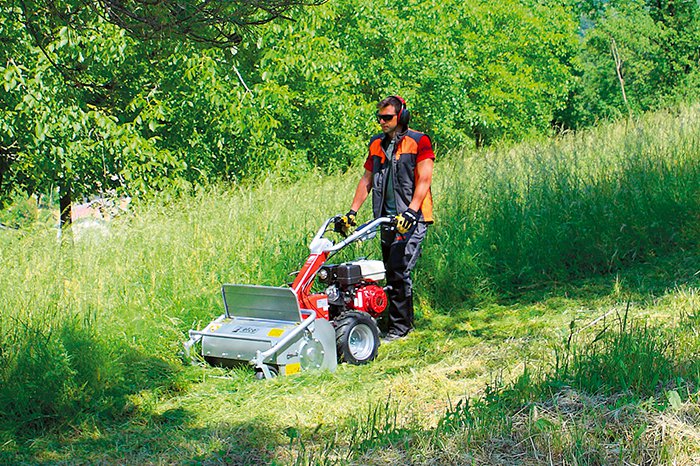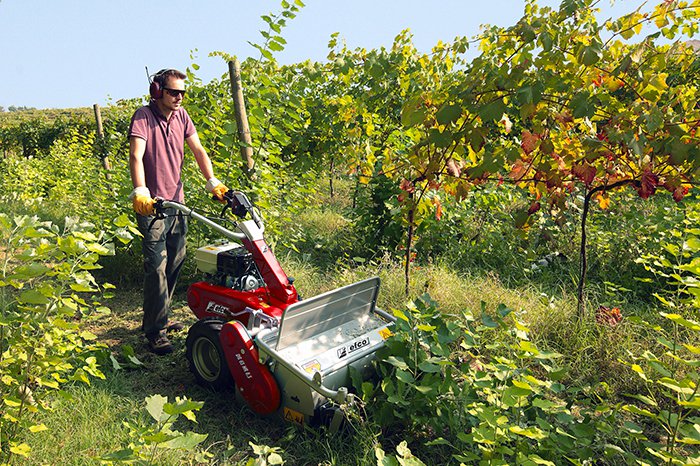 Wheeled brushcutter vs flail mower: technical overview
Having explained the generic differences between the various types of shredder, we will now briefly look at some technical aspects of the Efco models. We already mentioned the different cutting attachments, but we should also add that the DEB 517 and DEB 5158 petrol engine wheeled brushcutters have a side discharge, whereas the DEB 528 and all models of petrol-powered flail mower discharge directly onto the ground from the underside of the deck.
As for their structure, these machines are compact and robust. Compared with professional petrol engine flail mowers, petrol engine wheeled brushcutters for private use and professional petrol engine wheeled brushcutters are more compact and lightweight, because they are designed primarily for cutting grass and small shrubs, rather than more drastic interventions or more intensive situations.
The drive unit gives them the necessary strength to attack tough vegetation and terrain. Wheeled brushcutters and flail mowers work with different drive systems: the DEB 517 wheeled brushcutter has a single-speed drive system, while the DEB 5158 has a 7-position variable speed drive. In contrast, the DEB 528 and flail mowers have a gearbox with 2 or 3 forward speeds and one reverse speed.
The steering system and wheels are also crucial factors when choosing a wheeled shredder. Flail mowers have two pivoting front wheels and solid puncture-proof rear wheels. Wheeled brushcutters, on the other hand, have a pivoting wheel in the case of the DEB 517 and DEB 5158, whereas the DEB 528 is equipped with skids. Large wheels (of anti-puncture type for the DEB 528 model) round off the equipment for tackling uphill slopes and uneven terrain.
Weeds are the ideal target for shredders, which can help to keep unwanted plants under control naturally, without the use of herbicides. Find out more here: how to get rid of weeds without herbicide.